The ongoing Mobile World Congress (MWC) has seen a number of interesting gadget launches. In the course of the week, we will continue to provide you updates on various companies and their products showcased at the event, starting with HP and Samsung. The companies have launched a tablet each and while both run on the Android operating system, Samsung's tablet sports an 8 inch screen, in comparison to HP's 7 inch offering. Here is a look at their specifications.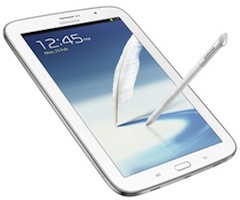 The tablet has an 8 inch WXGA TFT touchscreen display (1280x800 pixel resolution) and 189 pixels per inch (ppi) pixel density. It runs on the latest Android 4.1.2 Jelly Bean operating system and is powered by a 1.6 GHz quad-core A9 processor. It also has 2GB of RAM that basically means seamless use of multiple apps simultaneously. Users will have a choice between 16GB and 32GB of internal memory, which can be further expanded up to 64GB with a microSD card.
It has a 5 mega pixel (MP) autofocus rear camera that can record full high definition (HD) videos (1080p) at 30 frames per second and a 1.3 MP front-facing camera for video calling. On the connectivity front, the device has Bluetooth 4.0, Wi-Fi (with Wi-Fi Direct), and 3G, and a microSD slot and a microUSB port. The smartphone measures 210.8 x 135.9mm x 7.95mm and weighs 338 gm. Samsung has provided a 4,600 mAh battery in the device, which should provide decent battery life. It also has Assisted Global Positioning System (A-GPS).
The tablet also comes with a multi-window option to split the screen and allow access to a number of live applications, and a new S Pen that allows users to control the physical menu/back buttons on the device. Removing the S Pen from the device will automatically launch features such as 'Pen Detection' that will suggest menus and Page Buddy, a feature that will activate your most recently used S Note home screen. In addition, with 'Air View', the S Pen needs only to hover over the screen to see previews of videos, emails, photos and appointments, without opening the file or application in full.
Pre-loaded content/apps on the tablet include upgraded Chat-On that provides instant messaging and group chatting in multiple formats- images, video, voice and contacts; a customised version of the social magazine Flipboard that allows users to take the S Pen's hover feature and preview article headers beneath Flipboard's main screen tiles; and Smart Remote to turn the tablet into a universal remote control to manage TVs, DVD and Blu-ray players. Details on the tablets pricing and availability in India is not available as of now, but its biggest competitor will no doubt be Apple's iPad mini (starts at Rs 21,900) and Google's Nexus 7 (starts at Rs 17,400).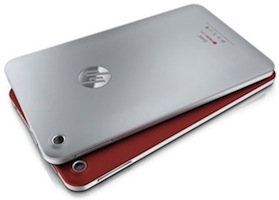 The tablet runs on the Android 4.1 Jelly Bean OS and like the name suggests, it sports a 7 inch LCD capacitive touchscreen display (1024x600 pixels resolution) and 170 ppi pixel density. It is powered by a 1.6GHz ARM dual-core Cortex-A9 processor and has 1GB of RAM. The internal memory of the device is 8GB that can be further expanded up to 32GB with a microSD card.
It has a 3.15 MP rear camera that can record HD videos (720p) at 30 frames per second and a front-facing VGA camera for video calling. On the connectivity front, the device has Bluetooth, Wi-Fi, and a microSD slot and a microUSB port. The smartphone measures 197.1mm x 116.1mm x 10.7 mm and weighs 372 gm. The device has a stainless-steel frame and will be available in gray and red colours.
According to the company, it is the industry's first tablet to offer embedded Beats Audio for a rich audio experience. It will also come with a full suite of Google apps. Slate 7 will be made available in the US in April 2013 at a starting price of $169 (Rs 9,100). While its India pricing is not available, it should lie in the Rs 9,000-14,000 price range. The device is not a serious threat to Samsung or Apple, but it could compete in the mid-price range segments with the Micromax's and the HCL's.
(Edited by Prem Udayabhanu)
---