IDfy.com, an online platform run by Mumbai-based Baldor Technologies Pvt Ltd and providing verification services to help users manage their profiles, has added new features to its offerings to make one's online profile even more credible. The interactive platform enables a user to create his/her profile, upload identity documents and use the IDfy ID for any interaction – be it house hunting or a job reference.
Set up by Ashok Hariharan, Hatim Baheranwala and Vineet Jawa in 2011, with Kaushik Shah serving as its CTO, the startup is backed by early-stage VC fund Blume Ventures who invested an undisclosed amount in the company in 2012. The portal currently follows a freemium model and does verification of bios for a fee. It also offers standalone verification of PAN card, work experience, educational qualification, address and reference/s for different fees.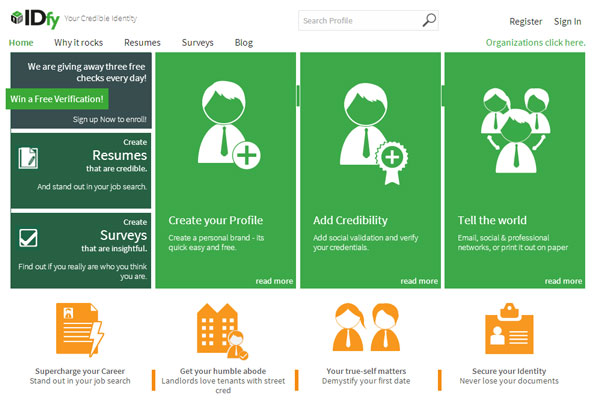 The new features include:
The credible resume: Now, a basic IDfy profile can be linked to various social networks like LinkedIn and Facebook where the user's friends and colleagues corroborate his claims and independently vouch & validate educational qualification and work experience. These details can be further verified and testimonials can be shown alongside a profile.
Surveys about me: The IDfy survey allows one to get ratings from colleagues, superiors and subordinates on various professional criteria.
Reference check: Enables one to get a formal reference from a past supervisor or client, and store it online.
"We are now providing many services for free but going forward, we may change that. Among these new features, survey is free," IDfy co-founder and CEO Hariharan told Techcircle.in.
"With the advent of the internet, the velocity of interactions with people whom we have met for the first time has tremendously increased over the past few years. However, the establishment of trust has still not moved to a better medium beyond the traditional face-to-face meeting. IDfy stands to change that reality," he added. The startup is keen to establish a 'curated' online space that can ultimately 'replace' the paper documents.
"In fact, IDfy brings offline karma online. It is not limited to jobs segment alone; it is there to help all who are meeting for the first," said Hariharan.
The company targets both consumers and enterprises for revenue generation. The B2C platform can be leveraged now as the company builds additional credibility for individual users. On the other hand, enterprises are willing to pay for access to verified profiles. "Moreover, we are still exploring our revenue model and looking at other possible channels," added Hariharan.
He also claims that IDfy has around 1,500-2,000 users for each segment (corporate and consumers). "Initially, we were focusing on corporate houses but from now on, we will focus more on consumers," noted Hariharan.
Asked about competition, he said, "There are many players who are doing bits of work in this segment, but there is no one player offering an amalgamated service. So there is no competition right now. Also, our product can act as an add-on where one can build extra credibility (like people do on LinkedIn)."
(Edited by Sanghamitra Mandal)
---