People who use smartphones costing more than Rs 15,000 have a higher tendency to use 'online apps' rather than just browsing while the reverse holds true for people owning smartphones, which cost less. After they cross the Rs 15,000 price point, owners of top-end smartphones (over Rs 25,000) are the most engaged with apps, according to a study by Nielsen Informate Mobile Insights. The study looks at the way usage varies with the price of the handset; in fact, the price of a smartphone can be an indicator of its usage.
Those owning mid-to-expensive smartphones typically consume more mobile data and when it comes to entertainment (on smartphones), owners of expensive handsets are avid gamers. However, those with cheaper phones mostly use those for multimedia consumption including music and videos.
App consumption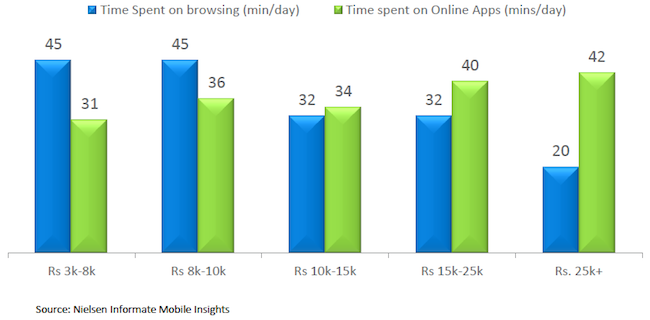 App consumption goes up considerably post the Rs 15,000 price point, with top-end smartphone users being the most engaged with apps. However, a different trend is seen when it comes to browsing. People with lower priced (Rs 3,000-Rs 8,000) handsets spend almost 50 per cent more time on browsing, compared to those owning more expensive smartphones.
Higher data consumption can be attributed to the high consumption of online apps by owners of expensive handsets. In contrast, most of the data consumption by owners of cheaper handsets includes internet browsing. Also, owners of expensive handsets have a tendency to try out a wider variety of online apps (reach of the top online genres is maximum for owners of over Rs 25,000 handsets).
Gaming apps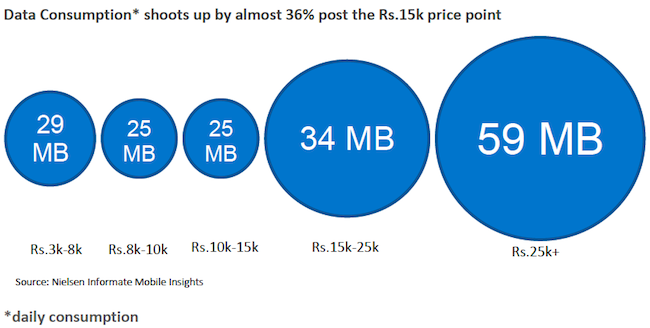 When it comes to spending time on entertainment-related activities on their phones, owners of cheaper smartphones (less than Rs 15,000) have high engagement levels on apps related to locally stored multimedia (music players, video players, etc.). On the other hand, users of expensive smartphones (over Rs 15,000) spend a major chunk of their time on games. Among these users, Temple Run (24 per cent), Subway Surfers (17 per cent), Angry Birds (12 per cent) and Temple Run 2 (9 per cent) have the highest reach, and Subway Surfers is the most engaging gaming app (its users spend more than nine minutes on it on a daily basis).
---