Flipkart, the big daddy of Indian e-commerce, is back with its category expansion spree. This time it has entered a much more popular category by launching women's apparel on its site.
Flipkart, which currently offers 55 brands in the category, plans to increase the number to 100-120 in the next quarter.
"With the launch of women's clothing, we complete our offerings in the clothing category. Having gained some experience with men's apparel in the past few months, and given the number of queries and requests we have received for women's clothing, we felt the time was right for this launch. We are launching with all major brands," Ankit Nagori, VP, business development, Flipkart.com said.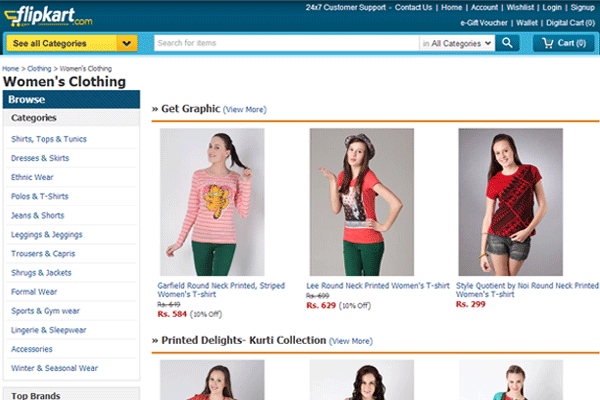 The online apparel market in India is currently pegged at around Rs 100 crore a month, and women's apparel forms a huge part of that, according to Nagori.
This is Flipkart's ninth category addition in the past one year. It started out with the launch of its digital music store, Flyte, followed by pens, stationary, lifestyle accessories, baby care products, toys, men's apparel footwear, sports and fitness.
Studies show a surge in number of women shopping online and also point to the scorching pace of growth of apparel as an e-commerce  category. Though electronics still remains the biggest selling category, apparel has been growing very rapidly too.
Flipkart has been expanding its product basket in a frenetic pace and in October 2012 entered  the apparels segment with the launch of a new men's clothing section.
Apparel is also one of the most happening  vertical e-com segments in terms of players and the quantum of venture capital money attracted by the startups.
The main investor in Flipkart, Accel, already has Myntra in its portfolio. Myntra is a much more established in player in women's apparel category.
Watch this space for more on whether Flipkart will be able to scale new categories to the level of its flagship books and electronics segment.
(Edited by Prem Udayabhanu)
---