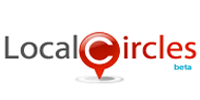 Delhi-based LocalCircles India Pvt Ltd has unveiled Localcircles.com, a community-based social network for residents of Delhi-NCR. The online platform enables people to connect with local communities such as neighbours, colleagues, parents/teachers, nearby friends & family and other locals sharing common interests. The portal also helps people seek assistance from their local communities in cases like fire, medical emergency and women's safety issues. The mobile-friendly portal can also be accessed from one's handset.
Around 2,000 local businesses are listed on LocalCircles, based on their popularity and credibility. Listing is free and by invitation only.
"After what we have seen so far in Delhi-NCR, we are bringing back the sense of community which used to exist when our cities were small," said Sachin Taparia, chairman and managing director of LocalCircles.
To ensure the credibility and security, the portal allows people to sign up by invitation only. "When a user from a specific area requests for membership, a personalised invitation containing a unique sign-up code is sent. The unique code ensures that a Defence Colony resident only joins the Defence Colony Neighbourhood network and not the Friends Colony network," explained Mukesh Gupta, president and CEO of LocalCircles.
"LocalCircles is the need of the hour in cities like Delhi-NCR. It is very important for both young and old people to know who their neighbours are. There is no better system to launch today in Delhi-NCR than LocalCircles," said Delhi Chief Minister Sheila Dikshit who officially launched the portal.
"Delhi has a participative governance model where 3,000-plus RWAs (Residential Welfare Associations) come together from all parts of society. LocalCircles will add a new dimension by bringing a much more effective way for the RWAs and the citizens in a neighbourhood to communicate with each other," added Dikshit.
LocalCircles is the brainchild of Taparia and Gupta who started the company in 2012. Prior to this venture, Taparia was the co-founder and managing director of Aviall India, a Boeing subsidiary. He is also serving on the advisory board of TVS and Sons, an auto services business. He is also a panellist and contributor on Business Integrity Forum and India World Economic Forum.
Gupta was earlier in Silicon Valley and managed the security appliances product line (a $300 million/year business) for Juniper Networks. He spent 14 years in Silicon Valley, building, managing, and marketing hi-tech products for companies such as Juniper, Tropos Networks and Nokia.
In April 2012, a similar concept, Treetle.com, was launched in Bangalore. Initially, the portal catered to Bangalore residents only but in July 2012, Treetle became a pan-India platform.
(Edited by Sanghamitra Mandal)
---