Excl: Online printing solutions provider Printland secures $164K funding, claims to have bagged 15,000 clients

Printland Digital India Pvt Ltd, an online printing solutions startup, has received Rs 90 lakh (~$164,000) from Delhi-based angel-cum-seed fund Evista Venture Capital, a top executive of the company told Techcircle.in.
Delhi-based Printland said the funding happened five months ago. It is currently using the funds for upgrading technology, search engine optimisation, expanding its product range, automation of supply chain and for social media promotions.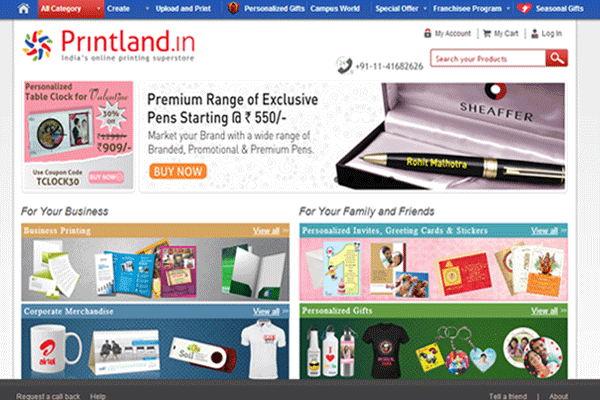 Founded in January 2012 by BITS Pilani alumnus Sandeep Behl, Printland offers corporate printing as well as personalised gifts with readymade design solutions. It integrates automated printing, design studio and cloud computing to provide on-demand printing and distribution solutions. Its offerings include business printing, corporate merchandise, corporate gifts, personalised gifts etc. The website allows users to customise his/her requirements and order and pay online. The consignment will be delivered in 48 hours.
Printland claims to have served 15,000 clients so far. It is already profitable and will end the current fiscal year (FY13) with around Rs 5 crore revenues. "We currently receive around 1,500 orders a month with an average transaction size of around Rs 4,500. We are tapping the commercial printing market worth Rs 60,000 crore," said Behl, who has worked at HP and Airtel.

"We have a 40-50 per cent gross margin for commercial printing solutions and about 60 per cent for retail solutions," Behl said.
The company has set an ambitious target of growing revenues to Rs 70 crore in the next fiscal.
With around 60 staff on board, Printland provides printing solutions round the clock and deliver them at multiple locations.

Printland targets 26 million SMEs (small and medium enterprises) and SOHOs (small office home office) businesses in India. "Out of the total 15,000 customers, 80 per cent are from the SME/SOHO sector. Among them, over 90 per cent came in through online and 10 per cent by referrals and walk-ins," Behl said.
The company was incubated at Delhi-based business incubator Aegis Centre for Entrepreneurship. Its director Sanjeev Kakar had put in Rs 35 lakh in his personal capacity in April last year.
The Indian web-to-print market is in the nascent stage compared to over 30 per cent market penetration in the US. "We believe that there is an opportunity of Rs 3,000 crore of revenues for us if  five per cent of the Indian market converts to web-to-print in the next couple of years," Behl noted.

Evista Venture is a private angel-cum-seed fund started by a group of high net-worth individuals (HNIs) based in Delhi. The firm is headed by Rahul Gupta, who has over 25 years of expertise as a venture capitalist, financial expert, CEO, entrepreneur and strategist. It invests in technology businesses through referral network. The company infuses Rs 50 lakh to Rs 2.5 crore in technology companies.
(Edited by Prem Udayabhanu)
---