Online mall ChennaiBazaar, which transformed into a focused Indian ethnic wear etailer for global markets Cbazaar.com in 2005, launched domestic operations only about a couple of years ago.
The company now claims it is shipping to around 115 countries.  "We have got great response from Indian market as well. Now it is in our top 3 markets," Cbazaar founder and CEO Rajesh Nahar told Techcircle.in. Its biggest market is the US followed by India and UK.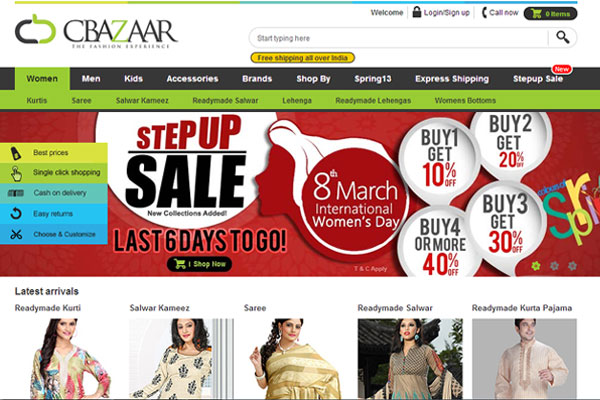 The etailer for ethnic wear is processing 600 orders a day, exactly double from the last time we had a word with Nahar.  Average order value for international markets has also gone up from Rs 7,500-7,800 to Rs 10,000 and the same for Indian market has also gone up from Rs 3,000 to Rs 3,700, Nahar claimed. "Our average order value is very big and we don't do small-ticket products. Our customers shop from us for all kinds of big occasions like weddings or festivals which makes the basket size bigger," Nahar said.
The company was a self-funded company before it raised Series A funding of $3.5 million from Inventus Capital Partners and Ojas Venture Partners in May 2012. The firm had initially raised only Rs 12 lakh from friends and family. Currently, Cbazaar is shipping across 115 countries and is looking to expand foothold in US, UK markets. Middle-East and South-east Asia are the next targets.  The company broke even in 2003.
Nahar said that since the company is profitable on a transactional basis, it is not actively looking for funds as of now. "We are growing at a very good rate and in next couple of months we should be thinking to go to market for Series B," he added.
Nahar said the USP that Cbazaar offers is that of customised tailoring and designing. For the biggest market for them, which is the NRIs, this is great value proposition since customised Indian ethnic wear is hardly available there at reasonable prices. "We are not a pure e-com I would say, it's not just buying products off the shelf. We do tailoring, designing, styling etc. and that makes us unique," Nahar said.
On category expansion, Nahar noted that ethnic wear was the core focus and that would never be diluted. However, allied categories would be added simultaneously. "We would not be moving out of ethnic wear. We might penetrate more into categories like ethnic jewellery and footwear in the next quarter," he said.
(Edited by Prem Udayabhanu)
---