Fenopix unveils cross-platform dashboard solution CanvasJS for developers
Bangalore-based Fenopix, a software services provider, has recently launched a charting and graphing (data visualisation) library called CanvasJS that enables developers to create dashboards for all devices – computers & laptops, tablets and mobile phones. Dashboards typically help organise and display information in a way that is easy to read and the data can be in the form of graphics, charts, etc.
Currently, most dashboards use Flash to generate interactive charts and graphics, as well as scalable vector graphics (SVG is an image format for two-dimensional graphics). But Flash does not work cross-platform and SVG often has functionality issues. In contrast, CanvasJS uses HTML5 and Javascript to help developers create dashboards across all devices without compromising on functionality.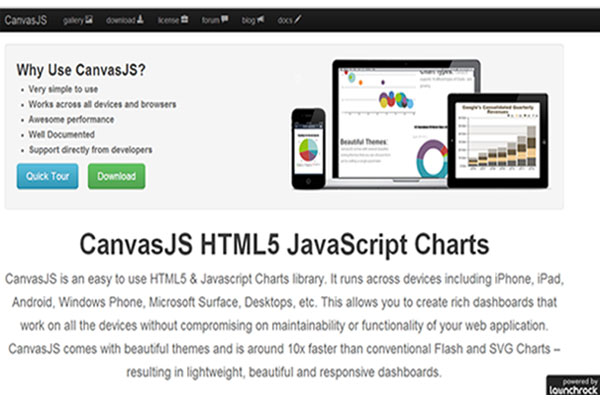 Fenopix was set up in 2012 and founder Sunil Urs claims that CanvasJS works 10 times better than conventional SVG and Flash-based solutions available in the market. "Our target audience are enterprises," he told Techcircle.in.
Prior to Fenopix, Urs was working with Alphonso Labs, developing Pulse News Reader for Windows Phone 7. He had also worked with companies like Webyog & Ramp Technology Group. He holds a BE in Electronics and Communication from Vidya Vardhaka College of Engineering, Mysore.
CanvasJS follows a royalty-free licensing model for revenue generation. Depending on the number of users and service ranges, the licence fee for one year can be $299 and it can go up to $3,999. However, CanvasJS Charts are free for non-commercial use. Fenopix is also giving around 50 per cent discount to early adopters.
According to Urs, there are two key competitors in the market – Bangalore-based Fusion Charts and Norway's High Charts. Recently, Fusion Charts has released a similar product called Razer Flow, which is also built on HTML5.
Before CanvasJS, Fenopix launched HashPlug, a search extension for Google Chrome, which integrates Twitter results with Google search pages. The integration helps users track hot and trending topics on Twitter.
Sometime ago, Google also built Google Realtime news feature (similar to HashPlug) but had to stop it as the search giant could not renew its Twitter licence.
"HashPlug is targeted at people like me who are missing Google's Realtime Search feature," said Urs. "But I am not planning to commercialise it or raise fund towards the same," he added. According to him, HashPlug is seeing decent growth and now has around 9,500 active users.
(Edited by Sanghamitra Mandal)
Comment(s)