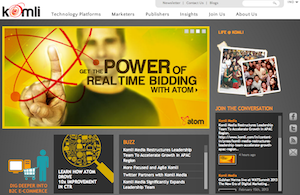 Mumbai-based digital media technology platform Komli Media has restructured its leadership teams to further accelerate growth in the Asia-Pacific (APAC) region. As part of the restructuring, Gulshan Verma, formerly managing director (MD) for Komli Media's India and North America business has been promoted to the role of chief revenue officer (CRO) and will be responsible for all of the company's business profit and losses (P&L). Additionally, Akshay Garg, co-founder of Komli Media and MD for Southeast Asia (SEA), will now head strategy and business operations for the company globally. Both Verma and Garg will report to Prashant Mehta, CEO, Komli Media.
Prior to this role, Verma was with the company for over two years as VP and country head for India and North America. He has over 14 years of experience and has worked with companies like Yahoo, Ernst & Young, McKinsey & Co and Associated Press and holds a MBA degree in strategy, marketing and finance from Kellogg School of Management (US). Garg was earlier VP, international, for nearly three years at Komli Media, during which period he lead Komli's international growth and strategy across UK, Australia and SEA. He has worked at International Labour Organization (ILO), Yunnan University and Deloitte Consulting.
The company has also created a new CRO organisation, which will consist of all the regional and business MD's across Komli Media worldwide and will focus on addressing the marketer's need for integrated media solutions. The organisation will also have several new additions that include Mathew Ward, who has been promoted to MD, Komli Media South-east Asia and Pritesh Patel, who is now MD, Komli Media India and Middle East. In addition, Matt Sutton has been promoted to MD, Komli Engage and Play. In his role, Sutton will be responsible for Komli Media's social and video solutions across all markets. Also, Varsha Brajesh has been promoted as director, data and analytics. She earlier held the position of head, business operations, in the company.
All of them will join Komli Mobile VP and MD Amit Bhartiya and Komli Media Australia and New Zealand MD Andrew Reid in the CRO organization.
"Consumer behaviour is changing across desktop, mobile, social and video in our core markets, and therefore we need to have an integrated approach that enables our sales teams to cross-sell solutions. Addressing this immediate need, the company has created the CRO organization, responsible for maximising revenues and margins across all regions and products," said Mehta.
Komli Media offers solutions across display, mobile, video, social, search and data for advertisers, agencies, and publishers. Its offerings include a real-time bidding (RTB) performance advertising platform (ATOM) that integrates audience data to improve return on investment (ROI). Headquartered in Mumbai, the company has over 4,00 employees across 18 offices in India, Australia, New Zealand, Southeast Asia, Middle East, Hong Kong, and North America.
In June, 2012, it had raised $39 million from Norwest Venture Partners, Nexus Venture Partners, Helion Venture Partners, Draper Fisher Jurvetson and Western Technology Investment. In January 2011, it had raised $15 million, led by Norwest Venture Partners, while existing investors Helion Venture Partners and Nexus Venture Partners also participated in that round. The company had also raised $6 million in July 2010 and $2 million in January 2008. In total, it has raised $62 million till date.
The company has been making a number of hires in the past, you can read about them here and here. It also re-branded itself (for enhanced brand visibility) and added logos to its individual product offerings including Komli Play, Komli Mobile, Komli Engage, Komli ROI and Komli Audience.
(Edited by Prem Udayabhanu)
---