Kochi-based mobile apps developer MindHelix Technosol Pvt Ltd is rolling out a feature phone version of its personal security app Sentinel, to reach out to non-smartphone users across the globe, a top executive of the company told Techcircle.in.
The company is also planning to come up with the enterprise version of Sentinel to help companies monitor the travel safety of their employees.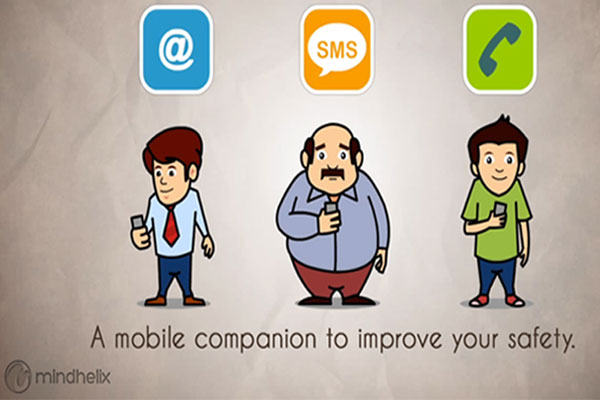 "Sentinel is our flagship product and we have already created the feature phone version of the same which will hit the market soon," said MindHelix CEO Christin Emmanuel George in an e-mail interaction.
For the enterprise version, the security office (of a company) will receive the alerts while the same goes to an employee's preferred (registered) contacts such as friends and relatives," according to George, who is currently attending the Alchemist Accelerator programme in the US.
Sentinel is a smartphone app which enables you to call your friends and family with a simple 'press' in case of an emergency. It also works even if you don't trigger the alert manually. The app sends out alerts to your friends and relatives if an attacker destroys the phone.
But how does the feature phone version of Sentinel work?
Indian mobile service provider Airtel has recently released a facility for users to get their location identified through SMS. Sentinel is using the same technology in the feature phone version – so that any registered user sending an SMS to 55444 (a service provided by Innoz Technologies with the text #sentinel or #alert will have their friends and family receiving calls and SMSes. The SMSes will have the details of their locations.
George also claims that Sentinel has seen around 20,000 downloads so far. "The app saw a tremendous download spike after the Delhi rape incident. Now we have updated the app with a lot of critical features. It is free and supports almost all platforms," he added.
According to the MindHelix CEO, Sentinel is being demonstrated to multiple universities in the US, as well as to various companies in India and the US. "We will continue to focus on the enterprise-customer interaction (ECI) of Sentinel. The ECI version for various police departments in India has been greatly received and it is now being implemented in multiple states. The Delhi police are the first customer for this app," noted George.
Set up by George and his friend Kallidil Kalidasan and incubated at the Kochi Startup Village, MindHelix became operational in 2011 and earlier developed a GPS-based auto fare calculator called Tuk Tuk Meter. "This app has crossed 70,000 downloads so far and around 1,000-1,500 downloads happen every week," said George.
According to him, the company has so far generated Rs 1.3 crore in revenues and has set a target Rs 3.5 crore for the current financial year ending March 31. "Both Sentinel and Tuk Tuk Meter bring us revenues. We are providing Sentinel to various police departments in India and also running ads on Tuk Tuk Meter, which brings us revenues. We follow a yearly subscription model for the product," said George.
MindHelix is looking to raise $2-3 million from VC investors. "As of now, we are looking for investors who have presence both in India and in the US. It will give us a perfect stance on both Indian and international activities," noted George. The company is also planning a US subsidiary. "But it won't be a completely new firm. Hopefully, it will be functional by May this year in San Francisco," he concluded.
(Edited by Sanghamitra Mandal)
---