Private label etailer DoneByNone clocking 250 orders a day; claims to have 18% repeat buyers a month
Gurgaon-based private label women fashion etailer DoneByNone claims to be getting 18 per cent of the customers back for repeat purchases every month. Started in February 2011 as Handspick.com, it raised  an undisclosed amount of capital from early-stage venture capital fund Seedfund during that time. It then re-branded itself as DoneByNone in March 2012.
DoneByNone started out with just bags and then added clothes, accessories and shoes to its kitty. It is a private label brand which offers limited but fresh merchandise additions regularly, according to Vijay Misra, its co-founder and chief product officer.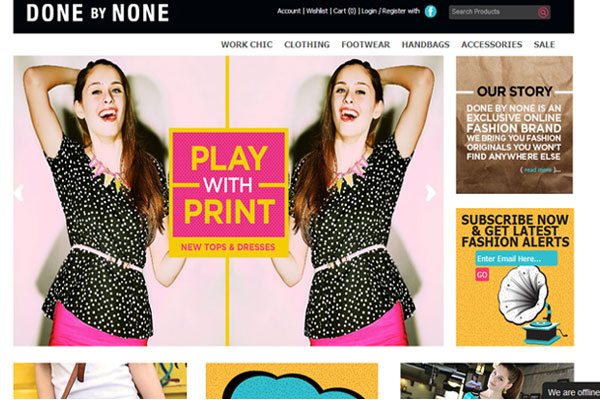 "At any given time we have about 150 styles and 350-400 SKUs. This is because our target audience is young women. We don't want to burden them with unnecessary choices. We have limited SKUs but fresher lineups to look forward at regular periods," he said.
Amarinder Dhaliwal and Vijesh Sharma, former executives of Bennett, Coleman & Co. Ltd (BCCL), joined hands with Misra, a former director of TCNS Clothing Company (of 'W' fame), to launch DoneByNone.
The startup is clocking around Rs 1 crore in gross merchandise value per month, with 250 orders a day and an average order value of Rs 1,400. On its expansion plans Misra stated, "We are focusing right now on getting our metrics right. In a market where people are spending huge amounts just to acquire customers we feel our value proposition is our product. We have added the basic categories. Now we will focus on delving deeper into these." Asked whether men's apparel or accessories are round the corner, Misra said, "We have a lot of women to serve for now. Let us serve that category first then we will think about getting into men's categories".
On fund raising plans, Misra said this is just not the right time for e-commerce companies to look for funds. "Investment sentiment is very negative right now. Most VCs or investors are already invested in the market. The whole community at large already believes that the e-commerce sector is over invested. This is certainly not a good time for any company to go out and ask for funds. We are growing well and want to ride this wave of investment downturn. Only after that we will go to the market for our next round of funding," he said.
Private label etailers have been seeing some traction lately with many new players in the market. DoneByNone competes with players like Zovi, YepMe, Freecultr and Inkfruit. Myntra and Pepperfry have just forayed into private label etailing. Private label accounts for higher margins and unique positioning, which are the main attractions of  the  sector. According to a study by Google on shopping trends, apparel is fast becoming most popular category in online shopping.
(Edited by Prem Udayabhanu)
Comment(s)