Both Paytm and redBus launch real-time GPS tracking for commuters; what's on offer?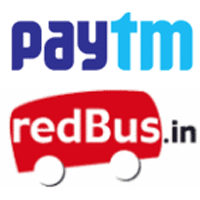 Paytm, an online recharge service provider which also entered the bus ticketing space in December 2012, has introduced a GPS tracking feature to determine the exact location of a bus in real time. The new feature has been launched in association with YourBus.in, a Bangalore-based startup that monitors bus location in real time and sends the information via SMS.
Going live today, the feature will enable commuters to track the exact location of a bus and its arrival time, depending on whether the bus has real-time GPS system installed in it. A commuter will receive an SMS an hour before the boarding time, giving him details of the current location of the bus and the estimated time of arrival at the boarding point. At any point of time, a user can refresh the link to know current vehicle status.
As of now, real-time tracking is only available for large-scale bus operators in southern India such as Morning Star Travels, Orange Tours & Travels, SVR Tours & Travels, Navin Travels, Sree Travels and Kaveri Kamkshi Travels. However, Paytm expects to come up with more than 1,000 buses with real-time GPS tracking facility within a couple of months. The company is also planning to extend the service to 100 more cities including Hyderabad, Guntur, Vijayawada, Bangalore, Tirupati, Vishakhapatnam, Mumbai, Pune, Nellore, Chennai, Erode, Salem, Madurai, Nagpur, Ongole, Coimbatore and Mysore, among others.
Interestingly, Bangalore-based redBus, the market leader in this segment, has also launched its GPS tracking service today. redBus has integrated the service with its Android app and will send an SMS 30 minutes before boarding time – letting a commuter know the exact location of the bus. An Android user will get a notification with a link to 'Live Track' bus from within the Android app. The app will automatically refresh the location every few minutes. On redBus, this feature is currently available for over 600 services operated by Orange Travels, SVR Travels, Morning Star, Kaveri Travels, Sree travels and Navin Travels. This feature is launched in partnership with YourBus & Asset Tracker who provide in-bus GPS tracking solution.
Paytm claims to have sold 3,000 bus tickets on the first day itself. However, redBus is leading the way with 22,000 bookings a day (as of July 2012). redBus started operations in 2006 and has sold over 10 million bus tickets ever since.
As each player is coming up with such value-added features back to back, commuters are bound to gain. So watch this space as we tell you more about these value additions in real time.
(Edited by Sanghamitra Mandal)
Comment(s)