Smile Vun Group's (SVG) data-targeted ad network Velocity has launched a location-based audience-targeting feature for mobiles. The new feature called Smartzones will enable advertisers to tap several audience segments – from travellers and sports enthusiasts to shoppers and entertainment seekers – across different locations (or special zones, as the company calls them) where interactive ad mediums are difficult to position, according to an official announcement. These special zones include areas like airports, stadiums, high-end shopping malls and even busy city streets. Smartzones will target people who are either showing purchase intent, researching a category/product via their handsets or in the vicinity of an advertiser's point of sale and are more receptive to advertisements.
The new feature will be available on platforms such as iOS, Android and Symbian.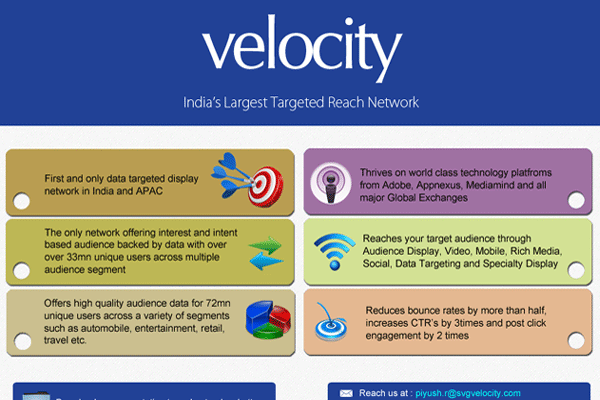 Launched in January this year for its clients in India and the APAC region, Velocity covers audience display, video, mobile, rich media, social media, data targeting and specialty display. It offers intent and interest-based audience data to users across various segments including entertainment, retail, travel, automobile, etc. The ad network came into being after SVG dissolved one of its products called Tyroo Audience, which had similar offerings (If you google Tyro Audience, you will be redirected to Velocity).
"Mobile ad spends in India is expected to be $50 million by the end of 2013. Increase in smartphone & tablet penetration and growth of mobile internet users will only proliferate mobile advertising, making mobile a difficult medium to challenge. As of now, 37 per cent of digital media time is spent on these devices. And Velocity is capitalising on the mobile opportunity with Smartzones and making it even more targeted by offering audience reach in niche and special zones," said Piyush Rathi, national sales director at Velocity.
Velocity claims to have on board premium publishers such as 4shared, Fruit Ninja, Newshunt, Myfitnesspal, EA-Tetris and EA Scrabble, among others.
Started in 2006, SVG Media is a joint venture between Manish Vij's Vun Network and Harish Bahl's Smile Group. It is a digital media network with 28.8 million unique visitors in India alone. The company also has presence in the South-east Asia and the Middle East.
(Edited by Sanghamitra Mandal)
---