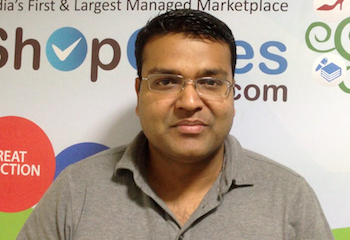 Gurgaon-based Clues Network Pvt Ltd, the startup that runs the horizontal e-commerce marketplace ShopClues.com, had recently raised Series B funding of $10 million (Rs 54.1 crore) from Helion Venture Partners, Nexus Partners and Netprice.com, a Japanese business group based in Tokyo. Helion led the round and as part of the investment, its managing director Sanjeev Aggarwal had joined the board of ShopClues. Techcircle.in got in touch with Sandeep Aggarwal, CEO of ShopClues, who co-founded the company along with Sanjay Sethi (vice-president, products) in July 2011 to get a lowdown on the company's investment plans, traction on the site and its road to profitability. Excerpts:
Last September you had mentioned that the Series A round would last you 15 months, why did you go for a Series B so soon?
It is true that a sizable chunk of money is still left from the previous round. But we are looking at rapid expansion and the newly infused capital will enable us to do the same. Post this round, while the founders still hold majority stake in the company, in terms of the VC investors, Nexus is now the biggest minority stakeholder, considering they led the Series A round and exceeded their pro-rata share in Series B.
Also, we don't think that we would need any more capital post this round, at least not for the next two and a half years. And like I had mentioned earlier, we could be the first Indian e-com firm to turn profitable and are looking at profitability in the first quarter of 2014.
Can you run us through the break-down of your investment plans?
The funds will be used to scale our business further, increase our product catalogue and expand the reach of our fulfilment network. A part of it will be also used to strengthen the technology platform of ShopClues. As of now, the site is delivering to roughly 9,000 locations and we are looking to double this number to 18,000 by the end of this year.
We currently have fulfilment centres in Gurgaon, New Delhi and Mumbai and are looking to add six more, one each in Jaipur, Ahmedabad, Bangalore, Hyderabad, Panipat and Ludhiana. We will go from three fulfilment centres to eight by September this year, while the last one will be added in the first quarter of next year.
We will also spend on developing a lite version of our site for low bandwidth users and mobile users and will follow this by launching mobile apps for the Android and iOS platforms.
How many SKUs do you have on the site as of now?
While we have over 0.3 million products, in terms of SKUs, this number increases to around 10 million. These are offered by over 10,000 merchants in around 600 categories and sub-categories.
How many transactions are you doing on a monthly basis, what is the average size of the transactions?
As of now, we are getting over 5 million visitors on a monthly basis, out of which around two million are unique visitors. We are doing close to 1.7 lakh transactions on a monthly basis, while the average transactions size is around Rs 600. Hence, while the average transaction size has decreased from Rs 900 in September last year, the number of transactions has more than doubled from 2,500 transactions a day during the same time.
What is the kind of purchase pattern you are seeing on ShopClues and what are the top three cities for you?
Interestingly, most of our incremental growth is coming from Tier II and III cities. While 35-40 per cent of our business comes from Tier I cities like Delhi, Bangalore and Mumbai, 35 per cent comes from emerging cities (top 40 excluding the top 8 cities) like Chandigarh and Jaipur. The remaining 30 per cent (almost one-third) comes from small towns like Hisar and Kota and even remote villages.
Also, while consumer electronics, IT peripherals, sunglasses and mobile phones were the top categories for ShopClues earlier, the fastest growing and largest ones as of now include fashion (includes clothing shoes and accessories), home decor, gardening equipment and beauty and fragrances. For electronics, the most selling products are mobile phones and computers. 
Can you share some revenues numbers with us? What about profitability?
As of now, the company is generating annualised revenue run rate of Rs 120 crore, which basically means that in February this year, the company did Rs 10 crore in revenues.
Don't you think after general e-com, the online marketplace segment is getting crowded?
We were one of the first ones to start an online marketplace in Indian e-commerce and hence are not worried about companies pivoting. This is mainly because while they might be big names, they don't have the marketplace DNA and will only be able to do a weak imitation of the model. Also, the technology requirements of the marketplace model are completely different from that of a regular e-com company and building that technology also takes time. We feel that we already have a healthy lead over our could-be/would-be competitors.
But we have never seen ShopClues at the top of the mind recall of the customers?
The reason behind this is that we have never done mass-marketing. In a country like India, which has over a billion population, the number of internet users is just over 150 million. Then if you look at the active internet users, this number decreases further. And even out of the active internet users, only 8-15 million actually shop online. So we don't see much point in TVCs or print campaigns. We have always done niche-marketing and that formula seems to have worked for us.
What do you feel about Nexus also being an investor in one of your largest competitor Snapdeal.com?
When Nexus invested in us, we were an online marketplace, whereas, when they invested in Snapdeal, the company was not a marketplace and was still contemplating as to which business model it should follow going forward. Hence there was no competition there. And if you talk about the Series B round, it was not like we had no option but to take money from Nexus, they could have refused and so could we. But we share a great relationship with Nexus and are actually very comfortable with the great China wall that the firm keeps between investee companies.
---