Mumbai-based mobile ad network Vserv is eyeing new territories to expand its global presence. With its operations already in place in India, the US and Europe, the company is now strengthening its foothold in African and the South-east Asian markets.
Talking to Techcircle.in, Vserv co-founder and CTO Ashay Padwal said that the platform is doing more than 1 billion ads a day for some time now. This means it is publishing 30 billion ads per month, exactly the double since we last spoke to the company May 2012 (read the full report here).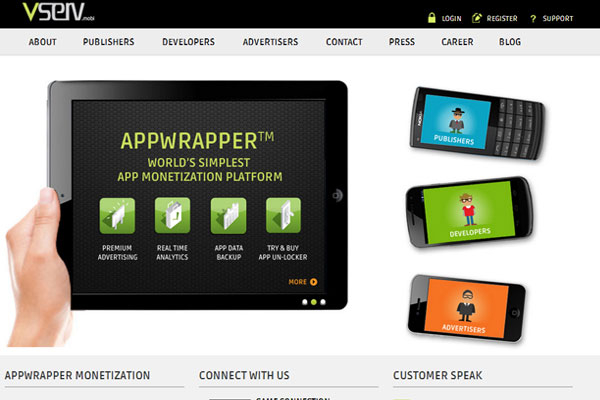 Asked about the regional break-up of the huge number of ads being published on the platform, Padwal said, "A year ago, quite a large portion of that came from India. But now that we are operating in foreign markets as well, 30 per cent of the ads are from India. Of the rest, 20 per cent ads are from the US and Europe, 20 per cent from the South-east Asia, 20 per cent from Africa and 10 per cent from other parts of Asia.
"Last year, we were able to spread ourselves geographically quite well. Although the India numbers will grow in the next one year, the South-east Asia and Africa should supersede India as well," he added.
Set up in January 2010 by Dippak Khurana and Ashay Padwal, Vserv is backed by IDG Ventures and secured Series A funding of $3 million in July 2011. As part of the deal, Manik Arora and Karan Mohla from IDG Ventures joined Vserv's board. Ajay Adiseshann, founder and managing director of the mobile payment company PayMate, also invested an undisclosed sum in Vserv.
Earlier this year, the company launched its new product called Audience Pro. It is the second technology platform after AppWrapper (earlier called AdWrapper), the company's flagship product.
According to Padwal, Audience Pro targets the advertiser community, based on demographics, spending power, mobile network usage history, location, content relevance and device-specific data. The ad network has partnered with Airtel for this product. "We have gone live with Airtel and working closely with two networks in the South-east Asia," added Padwal.
Talking about the upcoming tie-ups, he noted that most of these will be with telecom operators. "On the advertiser side, a lot of tie-ups in the coming year will be with telecom operators. We are also going to push our way in Africa in the next one year. So a lot of tie-ups will happen with operators in that region. South Africa, Nigeria and Kenya are the first three key markets," detailed Padwal.
The company has also tied up with platforms like Marmalade and Code Name 1, which enable developers to code just once for all platforms.
Vserv, which started with 3-4 members on board and was a 50-strong team last May, has now more than doubled its strength and currently employs 110 people. It also plans to take the number to 200 by the end of this year. In terms of growth, Vserv wants to cross the $100 million mark in revenues by 2015, shared Padwal.
He claimed that the venture is already profitable and that's why the company hasn't gone back to the market since its last fundraising in 2011. "We may go to the market for another round at the end of this year, but nothing has been planned yet," he informed.
Padwal also ruled out acquisitions but said the company is open to partnerships or joint ventures to enter new geographies. "We are not primarily looking at acquisitions but as we expand in new territories, we may look at some JVs to enter new locations where we may not want to build the business from scratch," he noted.
VServ's closest competitor in the market happens to be InMobi, a Bangalore and San Francisco-based mobile ad network. InMobi is one of the largest Indian ad networks and claims to be doing around 100 billion ads a month – three times of what Vserv is currently doing. Padwal also confirmed that InMobi, VServ and Google are the top three players in this segment, but not in that order.
(Edited by Sanghamitra Mandal)
---