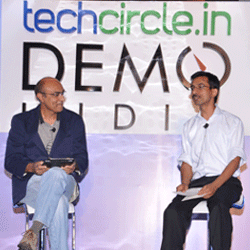 Indian government's Unique Identification Authority of India (Aadhar) project has opened up immense opportunities for technology startups, according to Srikanth Nadhamuni, the brain behind the technology at UIDAI and CEO of Khosla Labs, a Bangalore-based startup incubator set up by the Silicon Valley entrepreneur and venture capitalist Vinod Khosla.
At a fireside chat with Helion Venture Partners' senior MD Ashish Gupta at Techcircle's DEMO India event in Bangalore, Nadhamuni also said that the country has the potential to become a biometrics hub if entrepreneurs come out with biometric solutions that will make the Aadhar Card usage easy. 
"The e-governance projects of the central government, as well as various state governments, offer a huge space for tech companies to tap into. We encourage entrepreneurs to build various apps for the Aadhar Card such as authentication devices, iris censors, and finger print solutions. If startups focus on these solutions, I think India can become the hub of biometric technologies," said Nadhamuni.
He also urged entrepreneurs to focus on rural India and build solutions that will simplify payments and money transactions. "Startups need to look beyond trivial issues and address larger problems that rural India is facing. They can align with banks and various government agencies to ease out bank-related processes that will benefit the rural population," he added.
"For example," said Nadhamuni, "there are immense opportunities on the payment side of the Aadhar project. Most of the Indians still don't have bank accounts. If an entrepreneur comes up with solutions that will help rural people to open bank accounts quickly, without going through days-long processes, it will not only uplift rural India but will equally benefit other stakeholders including banks."
Entrepreneurs should also think of a solution that makes the KYC (know your customer) process hassle-free for banks and telecom service providers. "We have kept open the Aadhar platform for entrepreneurs to build these kinds of apps," noted Nadhamuni.
An engineering graduate from the National Institute of Engineering, Mysore, Nadhamuni set up the technology centre for the development, design and operations of the Aadhar system. He has also helped create a biometrics-based national identity platform that has enrolled around 300 million people till date.
(Edited by Sanghamitra Mandal)
---