Gurgaon-based Zomato Media Pvt Ltd, which owns the popular restaurant and event-listing site Zomato, has expanded to the Philippines with the launch of a new Manila NCR section. Zomato, which has been bullish on international expansion for some time, has entered South-east Asia with the Philippines as its first market. Earlier, it made  foray into the UAE, Qatar, Sri Lanka and the UK.
According to the company, the new section provides in-depth information about 9,000-plus restaurants and covers the cities of Quezon, Manila, Makati, Mandaluyong, Paranaque, Pasay, Pasig, Pateros, San Juan, and Taguig. It features scanned menus, photos, mapped co-ordinates and user reviews of restaurants, among others. In addition, you will get a list of trending restaurants for the week.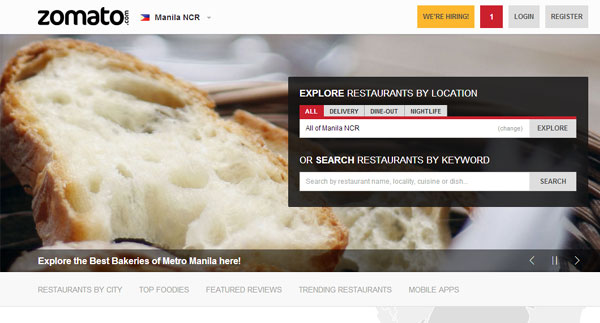 Commenting on the development, Zomato founder and CEO Deepinder Goyal said, "We hope that the locals like our service and use it to discover great places. It's always great to be in a cosmopolitan city that loves to eat and we hope to be an integral part of its dining culture."
In September last year, the company entered the global market by adding a Dubai section and made foray into Sri Lanka in November with a Colombo section. In January this year, Zomato expanded to Europe with the launch of a new section focusing on London.
IIT-Delhi alumni and ex-Bain employees Deepinder Goyal (CEO) and Pankaj Chaddah set up Zomato in July 2008. Initially, it only catered to Delhi-NCR, but has now expanded its services to 20 cities across six countries – India, the UAE, Qatar, Sri Lanka, the UK and the Philippines. Besides Delhi-NCR, other cities on Zomato's map include Mumbai, Bangalore, Pune, Hyderabad, Chennai, Kolkata, Chandigarh, Ahmedabad, Jaipur, Lucknow, Indore, Ludhiana, Dubai, Abu Dhabi, Sharjah, Doha, Colombo, London and Manila NCR.
The company also claims that the site attracts more than 10 million users every month and is currently covering 89,400 restaurants.
Earlier this year, Info Edge (India) Ltd, which runs the recruitment site Naukri.com and other classifieds such as matrimonial site Jeevansathi.com and real estate portal 99acres.com, invested Rs 55 crore ($10.07 million) more in Zomato Media. The fresh infusion of funds took Info Edge's total investment into Zomato to Rs 86.06 crore and its holding has risen to 57.9 per cent (from 48.5 per cent), making it the majority shareholder in the company now. Prior to the latest round, it had raised Rs 31 crore in three rounds of external funding from Info Edge "the first round in August 2010, the second in September 2011 and the third in September 2012.
Zomato had also forayed into the print space with a co-branded (and we guess, sponsored) Citibank Zomato Restaurant Guide 2012, for four cities – Delhi-NCR, Mumbai, Bangalore and Pune. Zomato also upgraded its mobile app for the Android and iOS platforms to ensure convenience and enhanced user reach.
(Edited by Prem Udayabhanu)
---