Excl: Bangalore-based vehicle tracking solution startup AssetTrackr secures angel funding
AssetTrackr Pvt Ltd, a Bangalore-based company providing personal vehicle tracking solutions, has secured $500,000 from three angel investors, its founder told TechCircle.
The investors are Kiran Basani, CEO, AddOnUSA, a US-based enterprise technology company; Prasad BVN, VP (sales operations & business consulting APAC), Aspen Technology, a manufacturing and supply chain management software firm; and an unnamed angel investor based out of the US.
"We will use the fund for product development and marketing," said Ashok Yerneni, founder and CEO, AssetTrackr.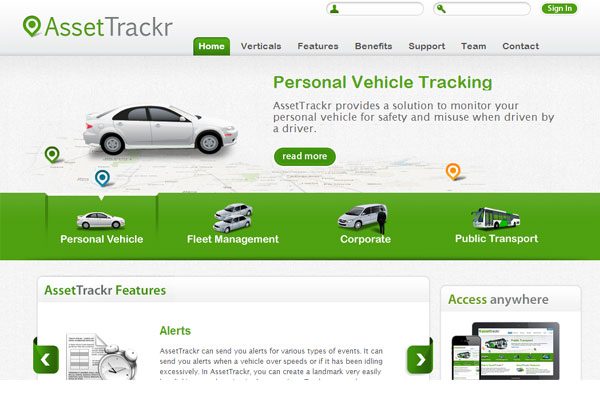 Set up in 2011 by IIT Madras alumnus Yerneni and IIT Guwahati graduates Vikas Minda and Abhijit Das (cofounders), AssetTrackr leverages Global Positioning System (GPS) and GPRS technologies to offer solutions in tracking vehicles. The device is used for tracking and managing hazardous material transport, cars, buses, and cargo vehicles etc.
"We have fleet management solutions and inter-city bus-tracking solutions. Our key clients include DTDC, Professional Couriers, GMR (roads & highways), ABIR Infrastructure, BigBasket, Kesineni Cargo, INDEV logistics etc. Our B2B market is courier, cargo, logistics, infrastructure and web-based delivery companies," Yerneni said.
The company recently came up with a personal vehicle tracking product, SafeKar, primarily for chauffeur-driven cars. "This device, installed in your car along with our service portal and smartphone app can be used to track and manage the vehicle, and identify the misuse or dangerous driving by the driver. It also provides maintenance reminders, average mileage, odometer tracking and route history. It also helps you recover a stolen vehicle, monitor driver behavior etc.," said Yerneni, who also holds a MS degree in computer science from Virginia Tech University in the US.
The company has bagged 50 customers for its SafeKar product, which is still in beta version. "All these customers are in Bangalore. We are now looking to expand to other major cities as well," Yerneni said.
The company follows a subscription model for its products. The SafeKar device costs around Rs 5,000. The customer also needs to pay Rs 1,599per year for usage.
SafeKar is one of the startups selected for TechCircle's DEMO India programme concluded on Thursday.
How it works
Once the device is installed in your car's dashboard, the antennas in the device picks up signals and immediately connects to the company's server via GPRS. The customer then needs to register online with all relevant details. Once it is live, the device can track your vehicle in real time on the web as well on your smart phone and identify unauthorised trips and stoppages. You will be immediately notified if your driver is over-speeding. You can also customise it by creating safety fences and get notified if your vehicle crosses that fence. If the driver deviates the route and the system will send you SOS to your phone, e-mail account or to your smartphone as push messages. You can also check your monthly usage, distance travelled, detailed trip history etc. You will also get daily/weekly summary e-mails as well as approximate fuel expense.
(Edited by Prem Udayabhanu)
Comment(s)