Jewellery e-tailer Bluestone claims monthly GMV of Rs 4Cr, looking at offline presence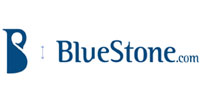 Bluestone.com, an online jewellery store run by Bangalore-based Jewels Online Distribution India Pvt Ltd., claims to be selling up to 120 units a day with an average order value of Rs 12,000. Founded in February 2012, Bluestone is backed by Accel Partners and investor K Ganesh. It raised its last round worth $ 5 million in January 2012.
Bluestone.com was founded by Vidya Nataraj and Gaurav Singh Kushwaha in mid-2011 and the online shop was set up in February 2012.
Bluestone.com offers a range of precious jewellery under five categories (further split into several sub-categories) including earrings, rings, pendants, bangles and bracelets. Various filters (such as gold purity, stones, occasion, stone colour, etc.) have been provided for the buyers and jewellery can be purchased via EMIs as well.
Kushwaha told Techcircle that when the company started operations the market was still at a nascent stage.
"It's all about trust at the end. It is not like particularly for this category people won't buy online because of the touch and feel factor, it is more about trust. We have seen 30-40 per cent repeat purchases since once customers put in the faith they definitely come back for more," he said.
Bluestone recently came up with its TV commercial, and Kushwaha claimed that sales have tripled since the marketing exercise.
"Unlike other categories, jewellery has much higher gross margins. We are doing well and don't need external capital for now," he said.
He also disclosed that the startup is going to go offline very soon. "We are planning to leverage our online success and foray in the offline market as well. By the end of May you will see our first offline store in Bangalore and then the usual top metro cities like Delhi and Mumbai are on the cards," he said. These won't be franchise stores, but offline outlets managed by Bluestone.
Last we spoke to the company it was sourcing merchandise, but Kushwaha informed that it has now started manufacturing on its own. With a 120-member strong team, Bluestone is now ready to take 2-3 times the load it is seeing now, but waiting for market to mature further.
Online jewellery shopping has seen tremendous traction and will only grow further, he said. "The most expensive purchase from Bluestone was a Rs 5 lakh solitaire ring. The fact that a good chunk of our sales happen in the bracket of Rs 1-2 lakh says a lot about the customers' faith in us," he added.
Bluestone's closest competitor in market is Chennai-based Caratlane, which is backed by VC fund Tiger Global.
(Edited by Prem Udayabhanu)
Comment(s)