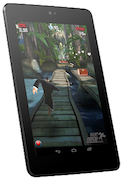 Nexus 7, the tablet developed by Google in partnership with Asus, has finally landed on the Google Play Store in India. Although the tablet made an over-priced debut in the country at Rs 19,999 in November last year (and was unofficially available even earlier), this is the first time users can purchase it from the Google Play store. As of now, only the 16 GB model is available for purchase, priced at Rs 15,999.
Also, there's no clarity when (and at what pricing) the 32 GB Wi-Fi only and the 32 GB Wi-Fi and HSPA+mobile data version will be launched in the country. However, a quick specs recap will help you decide if you want to buy this one right now.
This tablet features a 7 inch backlit IPS HD touchscreen display (1280×800 pixel resolution) with 216 PPI density and runs on the latest Android 4.1 Jelly Bean operating system. It is powered by a 1.3 GHz NVIDIA quad-core Tegra-3 processor and comes with 1 GB RAM. The internal memory is 16 GB. The device also comes with a 1.2 mega pixel front-facing camera for video calling that can record high definition videos (720p) as well. On the connectivity front, it has Bluetooth, Wi-Fi and near field communication (NFC), and comes with a microUSB port.
It measures 198.5mm x 120mm x 10.45mm and weighs 340 gm. The company has provided a 4,325 mAh battery, which it claims will provide 9 hours of HD video playback, 10 hours of web browsing/e-reading and 300 hours of standby time. It also comes with GPS.
While the tablet's biggest competitor is Apple's iPad mini, priced at Rs 21,499 for the 16 GB Wi-Fi only model, it will also lock horns with the likes of Samsung's Galaxy Tab 2 P3110 (Rs 12,599), Galaxy Tab 2 P3100 (Rs 15,999) and HCL ME G1 Tablet (Rs 14,261), among others.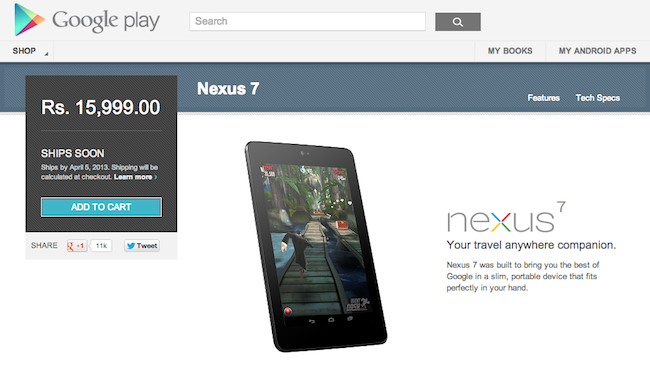 According to the website, all orders will be delivered via FedEx/Aramex in 3-7 business days. Once an order has been shipped, the customer will get an e-mail notification with a FedEx/Aramex tracking number. So if you want to add more colour to life this Holi, you can probably gift someone a Nexus 7. But do remember that the tablets will be shipped by April 5 – so all they (your friends and relatives) will actually get now is the proof of purchase. Also note that the same tablet is available for $199 (Rs 10,815) in the US, almost one-third less than its India pricing. So if someone is visiting, you can probably ask him to get one for you.
Since the search giant has made its first Nexus device available on Google Play, we are also hoping that Nexus 10 (tablet) and Nexus 4 (smartphone) will follow suit. Watch this space as we bring you the latest updates on all Google products in India.
(Edited by Sanghamitra Mandal)
---