Search giant Google has introduced its movie rental and purchase service, Google Play Movies, in India. Users can now rent or purchase movies from Google Play Store site or through the app on their android devices.
All movies on Google Play Store are available for rent and many of these can be purchased as well. Choosing rent streams the movie on to your device and you have 30 days to watch it and then 24 hours to finish it once you start watching the flick (you can watch it as many times as you want in those 24 hours). If you buy the movie, you can stream it whenever you want and it can be also downloaded for offline viewing, according to Google's support document. However, users need to download Google Play Movies and TV app on their android devices to stream videos over Wi-Fi or 3G.
Both Hindi and English movies are available on Google Play Store, as well as some HD titles. One can rent movies for as little as Rs 50 or buy these for a minimum of Rs 180 (for SD) and Rs 490 (for HD). Last we checked there were five categories available in the section (action & adventure, animation, comedy, drama and family). You can also browse through the movie overview, viewer's review and critic review before buying or renting the movie.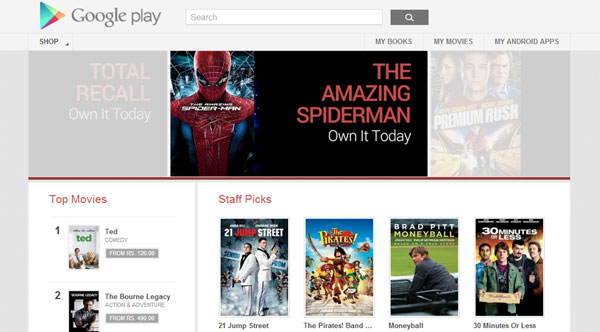 Besides India, the movie rental and purchase service from Google are also available in the US, the UK, Australia, Brazil, Canada, France, Germany, Japan, Korea, Russia, Spain and Mexico. But currently, TV episodes and seasons are available in the US only.
Google already has movie streaming feature on YouTube. Also, in December 2012, Apple opened the gates of its iTunes Store for Indian users with music and collection of movies for rent or purchase.
Other players like BIGFlix (the digital media arm of the Reliance Group), Times Internet's BoxTV, Eros Now, Yahoo's MoviePlex, Airtel Movies and Spuul can also pose tough competition for Google's new movie section.
Only last month, Google also launched the Books section in India where users can download e-books from a collection of more than 4 million titles from Google Play store.
(Edited by Sanghamitra Mandal)
---