Cleartrip claims gross revenues of around Rs 300Cr a month, eyes break-even by Q3 2013


Cleartrip Travel Services Pvt Ltd, which runs the online travel booking site Cleartrip.com, claims to be doing over 5 lakh transactions a month in India (a round trip is considered to be two transactions, which means the total number of bookings can be anywhere between 2.5 lakh and 5 lakh since some tickets are for single journey). These transactions are spread across the three biggest service areas of the company – domestic air travel, international air travel and packages (flight and hotel combos), according to Stuart Crighton, co-founder and CEO of Cleartrip.
In terms of percentage split, the combination of international air travel and hotel products accounts for nearly 35 per cent of the total revenues while the rest comes from domestic air travel.
For Cleartrip, the average transaction size amounts to Rs 5,500-6,000, which means the company is clocking gross revenues of up to Rs 300 crore on a monthly basis or Rs 900 crore a quarter.

To put it in perspective, MakeMyTrip, the top player in the Indian OTA space, generated total revenues of $324 million or around Rs 1,800 crore for the quarter ended December 31, 2012. This was through a total of around 12 lakh transactions in the quarter or around 4 lakh transactions a month. However, it is not clear whether MMT also has a similar classification regarding transactions and bookings (one round trip booking equalling two transactions).
Based on estimated gross revenues, Cleartrip is just about half the size of NASDAQ-listed MakeMyTrip.
The OTA claims to be getting around four million unique visitors per month while its registered user base is over two million and it has been growing at 30 per cent year on year. Also, nearly 85-87 per cent of the total revenues come from India, said Crighton, and the revenue ratio of air and non-air products stands at 80:20 (similar to MakeMyTrip which generated around 21.6 per cent of gross revenues through non-air products).

While Cleartrip is focused on the Indian market, it has also expanded into the Middle East and currently focuses on the UAE, Oman, Qatar, Bahrain, Saudi Arabia and Kuwait. In India, the company operates three offices – in Gurgaon, Mumbai and Bangalore. It also has an office in Dubai and the total employee strength is close to 430.
Funding & break-even
The OTA has already raised close to $60 million in funding from a string of VC investors including Draper Fisher Jurvetson, Sherpalo Ventures, Kleiner Perkins Caufield & Byers and DAG Ventures besides others such as Concur Technologies.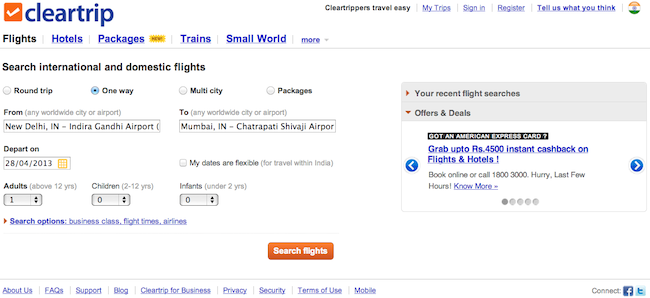 The money was invested for technology enhancement, platform building, hotel booking business and the Middle East expansion. However, on a day-to-day basis, the biggest expenditure happens to be marketing. Besides online marketing, Cleartrip is now investing heavily in offline promotion. The company started its TV commercials in November last year and it is also focusing on strategic advertising at airports across the country.
According to Crighton, none of the VC investors have exited the company till date and it has enough capital to execute the current business plan at least for two more years.

Asked when the firm may come up with an IPO that can also ensure a liquidity event for existing investors, Crighton says that listing is not a driving force and currently, the focus is on building brands.
"Why do we do an IPO? To create liquidity and access funds. All these things can be done in a private market as well. There is always an option for an IPO or fundraising, but there has to be a compelling reason for it," he said. Crighton, however, declined to comment on whether there would be a pre-IPO round of funding.
Cleartrip broke even for the first time back in 2008, but could not sustain it since it has been continuously investing in the business. According to Crighton, the company grew 35 per cent in 2012 and it aims to break even again by the end of the first or the second quarter of the next fiscal, on the back of hotel-driven growth.

Focus on mobile and new products
The company currently has apps for the Android and the iOS platforms while 25-28 per cent of the entire search volume is generated via mobile. Moreover, 7-8 per cent of the total transactions are also happening on mobile, with more conversions happening via the Android app. In contrast, the iOS app is mostly used for search.
The company has also been launching a number of new features like Expressway (for one-touch bookings), Quickeys (for last minute hotel bookings) and Passbook support (for its iOS users) and the recently launched money back policy called Pricewatch.

Asked whether the OTA would also make foray into bus ticket booking, Crighton said, "Bus is a great product and some of the companies are already doing a great job by offering those services in India. But you won't find it (bus ticket booking) to be something that has seen a lot of transaction volume on any of the OTAs. Having said that, transportation, in general, is something consumers expect from online travel agencies. So it's definitely something that we are looking at."
(Edited by Sanghamitra Mandal)
---