The economic offences wing (EOW) of the Crime Branch has arrested two top executives of online electronics retailer Timtara for allegedly cheating over 200 shoppers by taking payment and not ensuring delivery of the products. Timtara co-founder Arindam Bose and CEO Harish Ahluwalia were arrested for allegedly cheating customers to the tune of Rs 12 lakh (though the investigators said more complaints are coming), a Times Of India report  said.
Owned by New Delhi-based Infosecure Consulting Pvt. Ltd, Timtara deals in various electronic gadgets such as LCDs, cameras, mobiles, laptops and peripherals, healthcare items, watches, gaming items, kitchen and home appliances.
Bose, who has previously worked at durables firms such as Philips, AT&T, LG and Videocon, started Timtara.com in 2010 with three others including his wife.
The complainants said the firm did not deliver products for which it had taken payment in advance. The firm also shifted its front office to a different address in Noida and also shut down its Dehradun-based call centre to avoid complaints, as per the report.
"We are studying their liability of the founders and are inquiring how the company registered Rs 14 crore turnover last year," the report quoted the investigative officer as saying.
A separate case has also been registered against Bose by the EOW for cheating in a property deal in Patiala in Punjab.
The Timtara site is still operational but the message which first greets a visitor reads like this: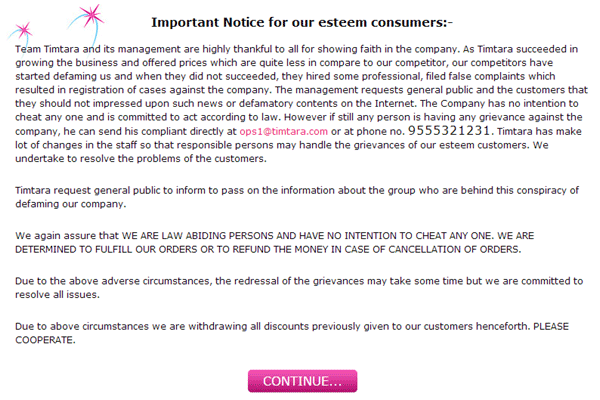 In an interview with Techcircle a year ago, Bose had said that the online firm was doing 500-600 orders a day and aimed to clock revenue of Rs 100 crore by FY13 and Rs 500 crore by FY14. He also said the firm will launch a separate domain which would deal with lifestyle products such as perfumes, home décor, watches and jewellery and was looking to open new offices in Bangalore and Mumbai.
"It is necessary to venture into new things to acquire newer customers. Right now, with the existing categories in the electronics segment, it was difficult to go beyond this. Hence a new domain was necessary," Bose had said back then.
Bootstrapped by its founders, the firm was looking to raise Series A funding in FY13.
Shrinking VC interest in e-com as a sector has led several e-tailers to either shut shop or merge or be acquired by other competitors in the last year or so.
(Edited by Prem Udayabhanu)
---