Flipkart's Delivery of Cash service, end of YouTube, Google's Nose and other things you shouldn't believe
You have heard of cash on delivery, but imagine if you could get delivery of cash (a la mobile ATM) or if Google can now enable you to smell things via your computer or phone screens. What if the largest online video streaming service YouTube is to shut down today. And not the least but your cat can have its own earphone!
Don't take these on face value but these are all real (surprises) announcements from the companies on the April Fool's day. Here's our version on what if these were true…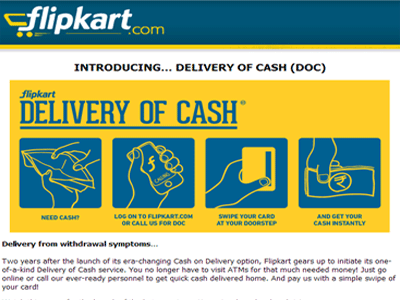 Flipkart comes up with 'delivery of cash' service wherein users can call swiping machine at the doorstep and withdraw the cash. It's a novel idea and despite the fact that spread of mobile PoS could make actual cash obsolete in the future, if cash on delivery rules in Indian e-com, a mobile ATM too should. Speaking practically, it's about leveraging laziness for a new business! How about hiring a few bouncers to avoid the delivery guy being mobbed?
Paytm, an online recharge service provider, said in a blog  that it has hit upon a revolutionary technical breakthrough where the Paytm mobile apps now have the capability to charge your phone battery.
"Yes! All you need to do is download the Paytm app and keep it open on your phone for 15 minutes….The in app handset charging facility is completely wireless and supports all handsets like Nokia, Samsung, Blackberry, LG, Micromax and of course Apple!," as per the blog.
Interestingly, there are actually some apps which claim to do a similar thing, albeit indirectly, by optimising the battery drain. So it shuts off some mobile functions so that battery consumption is less. We would love to see some such breakthrough app which can use say the kinetic energy with shake of the handset (some apps already uses it for location based services) to charge the handset. More importantly we hope such an app is not unveiled on April 1.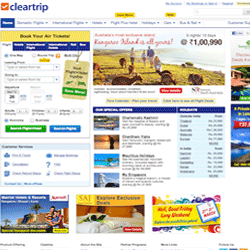 Cleartrip also tried to pull a clever one, announcing through its blog that the OTA is switching its distinctively clean white spaced user interface (UI) with a new design. The give-away, however, was that the proposed new design has a canny resemblance to market leader MakeMyTrip.
"Much to the anguish of Cleartrip's celebrated design and product teams, marketing has finally won the war. It no longer makes sense for us to go tilting at windmills. We've fought the good fight as long as we could, but now we need to surrender to conventional business wisdom and the realities of what customers prefer," says the blog.
Google has been known for its innovative ideas to celebrate April Fool's Day every year and this year was no different. Given the long way the tech giant has come about from its early days of plain vanilla online search business with innovative products and services we wouldn't blame you if you fell for its Google Nose (mind you 'in Beta') prank.
One can spot a new button in the default search dashboard with the beta version of 'Google Nose' . It says, 'take a whiff: the Google Aromabase - 15M+ scentibytes,' which implies that Google Nose can give controlled odours, right through your browser screen on PC.
What makes it actually doable is that such a technology has been in works. The proviso being that it cannot be, at least as yet,  experienced with your existing product. Companies have showcased such products which come as an attachment with gadgets and releases aroma in line with what's showing on screen to add another dimension to a TV audience.
Not only this, Google also announced shutdown of YouTube (of course a hoax). Well, Google has not shied away from shutting some of its products with huge user base (Google Reader for instance) if it deems fit, YouTube prank was a giveaway.
Sony, on its part, unveiled line of tech products designed for pets in an acknowledged spoof press release. It announced the Animalia line of technology products targeted at owners with dogs, cats and hamsters, with additional devices and networked services slated for release later this year.
The release reads, "Now that there are more households with pets than with children, we are targeting pet owners who want to provide unique entertainment experiences for their furry, four-legged family members," said Tom Barret, lead engineer for the Animalia line.
We found the reasoning to be strong though we are not too sure about the accuracy of the statement that there are more households with pets than children (outside of Japan). However, the wide variety of stuff the Japanese sells on their streets through automated machines in their country and with an  ageing population it might actually find buyers in its home market!
And Twitter also did its part. It announced its shift to a two-tiered service – a free version called Twttr, where users can only tweet without vowels. And If the users tweets have a vowel, they will have to pay $5 per month, it said.
(Edited by Prem Udayabhanu)
Comment(s)