YouTube's music videos now comes embedded with download link from Flipkart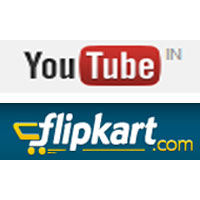 Video streaming giant YouTube has added Flipkart to its 'click-to-buy' feature that runs along with music videos on the site, enabling users, especially in India, to have another option to buy legal digital content. YouTube already has Apple's iTunes and Amazon's MP3 store integrated with its site, which provides a link for users to purchase the music from the two sites.
While download links for iTunes and Amazon's MP3 store were added to YouTube over three years ago (we could not spot Amazon's links, though), it is not clear exactly when Flipkart came on board. The development was first reported by Medianama. Flipkart had launched its digital music store Flyte a little over a year ago.
What's interesting is that the integration is selective for now. We could not immediately get names of all music labels which have been added in the integration, but did spot at least two labels including Universal and EMI. Then again, all music of the studios do not come with a download link even if it's from the official YouTube channel of the label.
While the integration is seamless for both, we found Flipkart purchase node to be much swifter (one has to download the iTunes app while Flipkart purchase can be without the Flyte download by just logging in to the account).
Another interesting thing we noticed was that the download links are not restricted to the official channel. For instance, this link for a song from the Bollywood flick Bombay was outside the official YouTube channel of Universal.
Where Flipkart has an upper hand is in pricing. Few random selections for comparisons showed the same songs (with link out from YouTube) priced at around Rs 12 in iTunes while it costs Rs 9 at Flipkart.
The online music streaming has recently seen a lot of traction in India. The market has become populated with apps from Gaana, Saavn and Dhingana. However, none of these offer a download/buy feature as of now. The latest entrant in the music play is Hungama Digital's music app, which offers this feature via operator billing.
Selling digital content in India is tricky since free pirated music is readily available. However, services like these coming to India means the market has been created. Combining YouTube's discovery platform with Flyte's tested gateway might be another route to gain traction for Flipkart.
Considering that Flyte offers a limited sampler for listening to music if one wishes to try it before buying, YouTube brings the option to try it in full and then buy from Flipkart.
We have sent an e-mail to Flipkart for more details on the tie-up and will update as soon as we get a response. Do share your reviews regarding the feature.
(Edited by Prem Udayabhanu)
Comment(s)