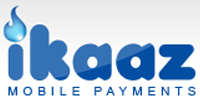 Bangalore-based mobile payment solutions provider iKaaz Software Pvt Ltd has come up with an NFC-enabled (Near Field Communication) reader for merchants/enterprises to use as a mobile POS (point of sale).
Its flagship is iKaaz M-POS (more on that here) that can replace expensive POS equipment with a feature phone, the company claims. For the same, it provides an NFC tag (which costs less than $2) that can be installed in any feature phone, turning it into a POS facilitator. Also, a customer can link the iKaaz NFC tag to his/her bank account, pre-paid account, debit or credit card, and once that is done, the device acts as an extension of the account.
The company also offers an app, Tap & Pay, using which a bank account holder can initiate money transfers and consumers can complete merchant transactions and pay bills using their mobile phones. With this app, which leverages NFC technology, merchants can receive payments from customers with just a tap of a phone at the checkout terminal.
Talking about the development, iKaaz CEO Soma Sundaram said that earlier, merchants required NFC-enabled devices which are costly and not easily available. But with the NFC-enabled reader in circulation, one can turn any mobile phone into a mobile POS for cashless transaction.
"iKaaz NFC reader can be used for retail payments, transportation, entertainment and numerous other touch points to enable cashless payments. Moreover, iKaaz NFC stickers can be linked to the mobile wallet and can be conveniently placed either inside or at the back of the device. These transactions are highly secure since it supports multi-factor authentication," explained Sundaram.
Besides Bangalore, the company has offices in the US and Kenya, and caters to customers across the globe. iKaaz was set up last year by Sundaram – a professional with two decades of experience in the software industry, particularly in the payments, social networking and open source domains. Earlier, he held a senior management position in Nokia's global mobile money division and prior to that, he was vice-president (product engineering) at Obopay.
(Edited by Sanghamitra Mandal)
---