Online furniture shop UrbanLadder.com, run by Bangalore-based Descasa Decor Online Pvt Ltd, which is backed by Kalaari Capital, is looking to raise its second round of investment to the tune of $5-6 million, a top executive said.
The startup raised $1 million in August last year in a seed round from Indo-US Venture Partners (Now Kalaari ). It plans to use the new capital for geographical expansion and enhancement of product on the digital front.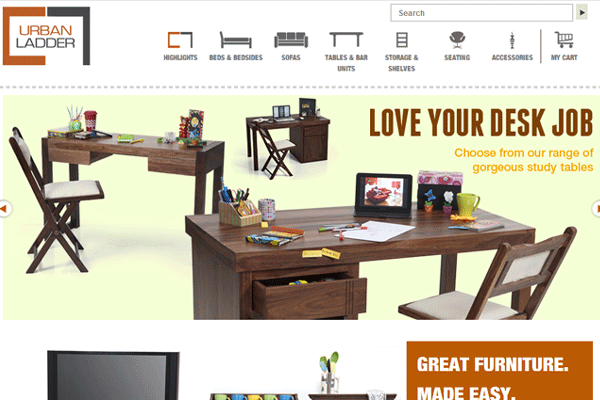 Urban Ladder was founded by Ashish Goel (also CEO) and Rajiv Srivatsa in January 2012. It is a private label, which means the company  designs products in-house, and deals across categories likebeds, sofas, dining tables, tables and bar units, storage and shelves, seating, accessories (trays, mirrors, laundry basket etc) and some brand exclusives. It is one of the few niche players focused on the furniture market. Currently, it has operations in Delhi, Mumbai and Bangalore.
It is launching operations in Chennai and Hyderabad soon, Goel informed.
Talking about the traction, Goel said that online furniture segment has grown a lot since they launched Urban Ladder. "We are seeing 45-50 per cent growth on a monthly basis and the biggest achievement is that the higher ticket products like beds, sofas are seeing more traction," he said.
The etailer has very recently introduced beds on its site and Goel claims the demand was huge.
Currently, with a team of 100 people, Urban Ladder looks after the whole logistics and last-mile delivery and plans to continue that as it expands its presence to other cities.
Goel said the company is doing a few thousand orders a month and the average ticket size is upwards of Rs 10,000.
Will it look at offline stores since touch and feel has always been important for Indian buyers?
"Our belief is that offline stores are not the way to go. We are online retailer at heart but at the same time if we have to make some efforts to help consumers cross that threshold from offline to online we would do that," he added.
He was hinting at some kind of initiative where the buyers can probably go and see the product and then order it online.
Urban Ladder competes with players like Pepperfry, which recently raised Series B funding and repositioned to be a pure-play home and living category etailer, FabFurnish which has piloted an offline store some time back and Jabong.
Do you think the market dynamics of buying furniture online is changing. Share your views with us.
(Edited by Prem Udayabhanu)
---