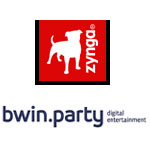 Zynga Inc will take the plunge into real-money gambling on Wednesday when it will begin offering poker and casino-style games in Britain in partnership with Bwin.party Digital Entertainment.
The launch, announced Tuesday, marks Zynga's first foray into online gambling, which it hopes can help reverse a steady decline in revenue as users dwindle for its older Facebook games like "Farmville".
Shares in Zynga climbed 5.5 per cent to $3.24 in after-hours trade.
"ZyngaPlusPoker" and "ZyngaPlusCasino" - available on the Web and as desktop applications to British-based gamblers - will allow Zynga to gauge interest among its core users for online betting on everything from poker to blackjack and roulette.
Zynga has also been developing Facebook-based versions of those games, which could tap into the social network's vast pool of potential players, executives said during Zynga's fourth quarter earnings call. The Facebook- and mobile-based games are expected to be announced in the coming months, a person familiar with the matter said.
Although real-money gaming remains illegal in most states in the United States, the largest online gaming market, Zynga has signaled to investors it could begin to make money in smaller, regulated markets while it waits for Washington lawmakers to pass federal online gambling regulations. The company is expected to expand beyond the U.K. into other European markets this year.
"Our long term vision is to offer our players the next generation of real money games on multiple platforms in regulated markets worldwide," Chief Revenue Officer Barry Cottle wrote in a blogpost Tuesday.
Investors hope Zynga can use its near-300-million strong gamer base to its advantage as it enters a vastly lucrative global online gambling market that, according to H2 Gambling Capital, could be worth $30 billion in 2013.
In September, Zynga hired Maytal Olsha, a former senior executive at 888 Holdings PLC, the online gambling powerhouse, to helm its expansion into the real-money market.
Zynga has not yet offered guidance about the new games' potential impact on its top line.
"This is just the beginning for us and we're looking forward to seeing what our UK players think," Cottle wrote.
The company has also not disclosed the terms of its agreement with bwin.Party, although analysts expect the London-listed gambling company to rake in a majority share of revenue, given that it is the party holding the U.K. gambling license.
Still, the U.K. games' launch represents a welcome development for a company hoping to recover its footing after a torrid year.
Once hailed as one of Silicon Valley's fastest growing companies, Zynga suffered a dramatic reversal in 2012, when users began to abandon its red-hot games like "CityVille." The company was also caught off-guard by a sweeping, permanent change in consumer behavior, as people spent more time on their mobile phones instead of desktop computers - the platform for Zynga's most lucrative, Facebook-based games.
The company went public in late 2011 at $10 a share. By November, its stock had dipped as low as $2.10, a price that valued the company only narrowly above the value of its securities, cash and assets.
Zynga's NY studio chief leaves after mobile games disappointment
The head of Zynga Inc's  New York studio has left the social gaming company a year after its $180 million purchase of his mobile game start-up failed to produce the expected results.
Dan Porter, the former chief executive of OMGPOP, will be succeeded by Sean Kelly, an executive formerly in charge of Zynga's smash hit "CityVille," the company said in a statement on Tuesday. Zynga's New York office focuses on developing games for mobile devices, a top priority for the company.
Zynga did not say where Porter, who was vice president and general manager of Zynga's New York operations, would go next.
Porter joined Zynga last March when it bought OMGPOP, known for its popular Pictionary-like game, "Draw Something," in its largest acquisition to date. His departure comes shortly before the highly anticipated global launch of the sequel, "Draw Something 2."
"Draw Something" began losing users soon after Zynga's purchase and OMGPOP struggled to replicate its previous success, leading Wall Street analysts to question the deal.
OMGPOP's integration into Zynga was challenging in other ways. Porter, a colorful and outspoken executive, publicly apologized to his Zynga colleagues last month after Quartz, a business news website, quoted him as saying that the company copies other publishers' games.
Zynga eventually wrote off $95 million in relation to OMGPOP last fall.
Despite Porter's rocky tenure, Colin Sebastian, an analyst at R.W. Baird, said Zynga's OMGPOP purchase helped signal the company's shifting emphasis toward mobile game development.
"I certainly can't say that he has been able to string together a long line of hit titles, but that's not necessarily his fault," Sebastian said. "In bringing some of that mobile perspective to Zynga and at least one key game, that mission was accomplished even if the price tag was deemed to be very pricy."
Zynga's stock plummeted 80 per cent in 2012 from a high of $12.90 last March, but has rebounded in recent months. The shares fell 2 per cent to $3.09 late Tuesday.
---