Eduora offers web-based learning platform for educational institutions, eyes global markets
Bangalore-based Eduora, Inc., which offers an online platform for educational institutions to create learning networks, is targeting colleges in the US, Europe and South America to grow its business, its founder told Techcircle.in.
Eduora is the first non-US startup to have graduated from San Francisco-based Alchemist Accelerator and secured $65,000 in seed funding as part of the programme, according to founder and CEO Nagarjun Palavalli.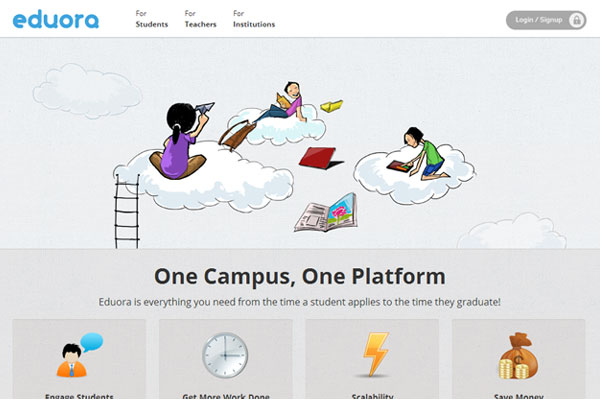 Set up in March 2011, the education technology startup has developed an academic collaboration platform with focus on higher education. A B2B company, its goal is to unify the most common campus technologies such as learning management systems, student information systems, campus e-mail management, people directories, online testing, course selection and more into one comprehensive platform.
"Eduora is not only the first education technology company but also the first overseas firm to be picked by Alchemist Accelerator," said Palavalli, an alumnus of Indus International School, Bangalore. "As part of the incubation programme, we got an opportunity to be mentored by the likes of Adam Pisoni, co-founder of the enterprise social network Yammer, and Tim Chou, an entrepreneur and author," he added.
The Alchemist Accelerator is backed by Khosla Ventures, SAP and Cisco, and typically invests around $30,000 in its incubatee startup. However, Eduora received more than double the amount as it is an overseas company.
The startup is currently running a pilot with a few educational institutions in the US including UC Berkeley and Stanford University, among others. "We've selectively reached out to professors who used Eduora as their primary communication platform for an entire semester. An average course has about 60 students and the response has been great. We receive even more feature requests from students," said Palavalli.
Eduora is currently targeting tier II and tier III institutes in the US, each with 2,000-5,000 students. "We feel that these institutions have the largest incentive to move to the cloud and save money. Their existing infrastructure is old and since they are small, they can move to newer systems much faster," the founder explained.
Besides the US, Eduora is targeting other global markets such as Brazil, Spain and Portugal. "We can customise the platform in Portuguese and Spanish within a week's time," said Palavalli. "Also, with more than 60 per cent of our content coming in these languages, we think these markets are our priority. From a sales angle, we will partner with local organisations that have excellent access to market and understand the local workflow," he added.
The company also sees immense opportunity in India. "In Indian colleges, every student has access to laptops/tablets. As tablets seem to be taking over the Indian education ecosystem, we want to be the platform that powers all communication on it," said Palavalli.
The firm is also looking to raise around $500,000 for go-to-market and product development. "It took us around $25,000 to build most of our products and we have now little money for marketing initiatives. With a new round of funding, we can focus on sales, especially as we have run 'sandboxes' at universities," he added.
As for revenues, the company plans to offer a freemium model and institutions opting for premium services will have to pay monthly fees based on the number of students using the platform.
There are a few more companies which offer similar services including Blackboard, Moodle, Angel, Sakai and PeopleSoft. Newer companies like Edmodo and CourseKit are also doing well. But they focus more on schools while Eduora is targeting the more niche higher education space and that may spell some competitive advantage for the Indian startup.
(Edited by Sanghamitra Mandal)
Comment(s)