Little Eye Labs launches pre-production app performance monitoring tool for developers
Bangalore-based Little Eye Software Labs Pvt Ltd, which offers mobile app analysis tools for app developers and testers, has launched a pre-production app performance monitoring and analysis software, according to a top executive of the company.
Called Little Eye, this software allows developers to easily understand the key performance attributes of the app, such as battery, network data and memory consumption, said its cofounder Kumar Rangarajan.

The tool is currently available for Android developers. The company, launched at TechCircle Demo India  in March, is now looking to come up with a solution for iOS developers by the end of this year or early next year.
"Little Eye provides not only the data around these attributes, but also tonnes of context around the same so that developers can easily make sense of the data. This tool also provides automated insights based on its run-time pattern," said Rangarajan.
Founded in May 2012 by five programme analysis geeks from Bangalore, Little Eye Software develops tools that provide detailed insights about the app and enables easy benchmarking. This happens without changing the code or integration.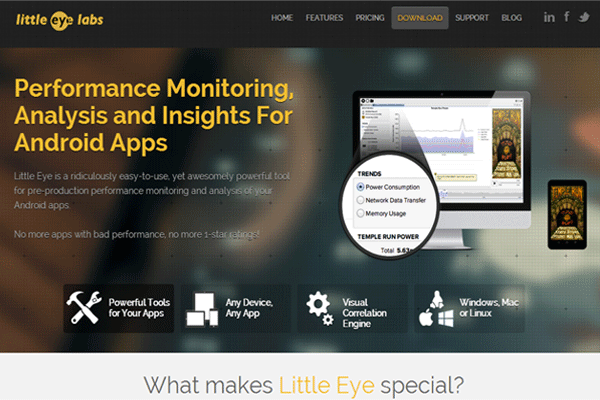 According to the company, it allows developers to understand their issues before the app reaches the audience. "There are some other performance tools that are focussed on post-production monitoring of app. In contrast, our customers have been able to identify bugs in their apps in the first 30 minutes of downloading it," he said.
The company was running a beta programme till its official launch a couple of weeks ago. "We have bagged more than 700 users so far, about two-third of whom are from outside India, with the US and UK being the top two international user base," said Rangarajan.
Little Eye Software charges $500 per year or $50 per month per developer. It also offers a fully featured free trial for 30 days. The company was part of the inaugural batch of the GSF Accelerator, a startup accelerator programme launched by former Reliance Entertainment president and GSF Superangels founder Rajesh Sawhney. It received an undisclosed seed funding from the accelerator as part of the programme. The firm is not looking to raise more funds as of now.
The needs of the developers are relatively similar across the globe. Little Eye labs estimate there are over 500,000 app publishers, ranging from large enterprises to independent developers. This market is growing at over 100 per cent a year and the opportunity is very immense, Rangarajan said.
(Edited by Prem Udayabhanu)
Comment(s)