Flipkart integrates marketplace with existing e-com platform, ropes in 50 sellers

India's largest consumer e-commerce player Flipkart has taken the wraps off its marketplace which enables third party sellers to list their products on its website and sell directly to consumers. The marketplace has been integrated with the existing website just like Amazon, where the interface for the consumer doesn't change but they get to choose their supplier based on aspects such as different prices, immediate availability and delivery schedule.
The e-tailer had started signing sellers for the marketplace two months ago.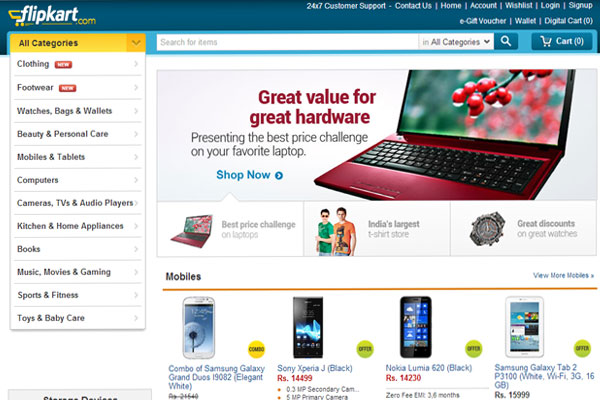 It said it has roped in 50 sellers, for starters, for different business verticals, including books, media, and consumer electronics.  Clothes, shoes and other categories will be added later, it said in a statement issued on Saturday.
"In the last 12 months, more than 80 million unique visitors have come to Flipkart. Five out of six online Indians visit our website. Sellers on Flipkart will get access to this vast user base," said Sachin Bansal, CEO and co-founder, Flipkart. The firm said it has 1 million visits every day.
Last September, Flipkart had initiated its moves for a marketplace by registering a new firm Flipkart Marketplace Pvt Ltd. The existing platform is run by another firm WS Retail Services Pvt Ltd. It is not clear if the payments for the marketplace will be routed through the new entity.

The firm has also enabled ratings of the sellers, though a quick browse did not throw up other seller options besides WS Retail, which represents the site itself.
The move to unveil the marketplace will also indirectly serve another purpose. It would bring down the dependence of Flipkart Online Services Pvt Ltd, the VC funded group firm which operates as a wholesale retailer, on the front end entity WS Retail.
The group had earlier delinked the shareholding of the front end entity to meet foreign investment norms in the sector which bars foreign investment in multi-brand retail especially e-commerce. The norms also say a foreign funded wholesale retailer cannot derive over 25 per cent of its revenues from a group firm. Serving other sellers through the marketplace would spread the revenues of Flipkart Online.

Flipkart said the customers will continue to enjoy cash-on-delivery/EMI options and routine return/replacement policies. Flipkart will take care of shipping and doorstep delivery through its logistics partners.
It is also planning to establish a protection programme to resolve complaints. Sellers will be identified through an on-boarding process and allowed to sell only genuine products.
Last month, another local e-com firm Infibeam also integrated a marketplace with its existing platform starting with some 1,000 sellers.

Infibeam's 'Build a Bazaar' platform enables its offline and other retail clients to build their own branded online stores and it has brought in some of these clients as sellers on its marketplace.
---