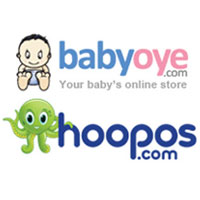 Babyoye.com, an online shop for baby care products, and Hoopos.com, an e-tailer specialising in mother care, baby care and kids' products, are merging to become one entity.
The merger was first reported by NextBigWhat.
A source close to the development also said that the combined venture raised $12 million in a fresh round led by early-stage venture capital firm Helion Venture Partners, with participation from Accel Partners and Tiger Global.
When contacted by Techcircle.in, Babyoye founder and CEO Sanjay Nadkarni confirmed the merger and the fundraising, but declined to comment on the amount. "There will a substantial incremental round for the benefit of the merged entity," he said.
Asked about the merger, Nadkarni said it's still in a very premature state. Although media reports state that it is an all-stock deal, he declined to comment on the same saying, "Things will be finalised only by the end of this month but right now, it is at an extremely premature stage."
Asked whether Babyoye would do away with Hoopos post-merger or keep it as a separate brand and what the strategy would be, going forward, Nadkarni said that the subsequent structuring of the brands would be decided later on.
Prashant Prakash of Accel Partners (one of the investors in Babyoye) also confirmed the merger but did not provide further details.
Interestingly, this is one of the rare mergers which had not been prompted by common investors to salvage their portfolio companies. "Instead, founders have come together in this merger. They have found synergies in the two businesses. Going forward though, Hoopos will exist as a separate brand while Babyoye will be the main site," the source informed.
It will probably be something like a Myntra-SherSingh deal where SherSingh was reduced to a catalogue site and all commerce was pushed to Myntra.
Babyoye.com was set up in May 2010 by Mumbai-based Nest Childcare Services Pvt Ltd, an organisation run by the husband-wife duo of Sanjay Nadkarni and Arunima Singhdeo. The startup raised its first round of funding to the tune of $2.5 million from Accel Partners and Tiger Global in April 2011. In December 2011, the company secured an undisclosed amount from Bollywood star Karisma Kapoor who also became the single largest individual shareholder in the company and its brand ambassador.
Babyoye deals in categories such as baby care products, baby clothes, furniture, toys & accessories, school gear, books and maternity care. It also has its own private label in the baby apparels category.
Hoopos, on the other hand, offers products across 12 categories including baby essentials, clothes, toys, travel, books and nursery furniture, among others. Run by Bangalore-based Boost Enterprises India Pvt Ltd, Hoopos came live in September 2011. Its founders are Vijay Jumani, Radhika Jumani, Raveen Sastry (co-founder and former VP, business development, at Myntra.com) and Anubhav Sudha, and the startup raised an undisclosed sum from Helion Venture Partners in October 2011.
Of late, the online baby care segment has been seeing a lot of investor interest. But as there are not too many players in this segment, consolidation seems inevitable for e-commerce entities to survive.
Keep watching this space as we bring you latest updates on the development.
(Edited by Sanghamitra Mandal)
---