Bangalore-based ZipDial raises funding from Jungle Ventures


Mobile marketing and communications startup ZipDial Mobile Solutions Pvt Ltd  has raised funding from Jungle Ventures, a Singapore-based venture capital firm. The funding is not a new round, but part of the investment the company disclosed in December last year.
At that time, Times Internet Ltd, the digital arm of The Times of India Group, invested an undisclosed amount in ZipDial. Prior to that but in the same month, the startup also raised under $500,000 from Silicon Valley-based incubator-cum-seed fund 500 Startups. The new development was first reported by NextBigWhat.

The company had also raised Rs 3.5 crore in its first round of funding in April 2011 from Mumbai Angels, Blume Ventures and AngelPrime. Mumbai Angels led the first round.
The latest investment will be used to implement ZipDial's global expansion plan and the company has already launched its operations in Sri Lanka as part of the same. Last December, CEO Valerie Rozycki Wagoner mentioned that the company would first launch its operations in Bangladesh in January 2013 and post that, it would also look at other key markets like Indonesia, the Philippines and Nigeria. This is where Jungle Ventures' funding can help the company.
ZipDial was set up in 2010 by Wagoner (CEO), Sanjay Swamy (chairman) and Amiya Pathak (COO). The startup offers a marketing communication tool based on the 'missed call' concept. Simply put, a user can give the company a missed call and ZipDial registers the number, which is then used by its clients to get access to mobile users who have expressed interest in their products/services. ZipDial clients use these numbers for sending promotional messages or information.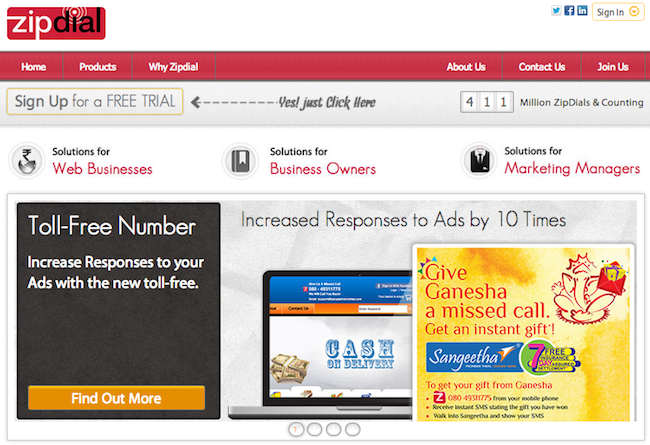 As of December 2012, the company had around 400 paid customers including brands such as Procter & Gamble, Unilever, Cadbury, Disney, MakeMyTrip and Café Coffee Day. According to the company, its 'tool' increases advertisement response rates by 2-50 times while the viral nature of its application increases the reach of campaigns by 30-75 per cent.
In January this year, Mumbai-based ANI Technologies Pvt Ltd, which runs an online marketplace for cabs and car rental services under the brand Olacabs, launched a cab-tracker SMS service on the ZipDial platform to enable a customers to track the cab's distance from his/her location and the expected time to reach the location.

(Edited by Sanghamitra Mandal)
---