Delhi-based Purple Panda Retail Pvt Ltd, which runs its private label lingerie e-shop Moodsofcloe, has raised an undisclosed seed investment from Zurich-based Mountain Partners AG and an arm of the Kanwar family who run Apollo Tyres. The firm sells its own Cloe brand lingerie and aims to go beyond the e-com platform – targeting sales through offline stores as well.
Purple Panda was founded by the trio – Neha Kant, Suman Chowdhary and Sunanda Agarwal. Kant was earlier heading digital marketing at Smile Group's Bestylish.com. In contrast, the other two co-founders, Chowdhary and Agarwal, are fashion designers by qualification. While Agarwal graduated from the National Institute of Design, Chowdhary is an alumnus of National Institute of Fashion Design.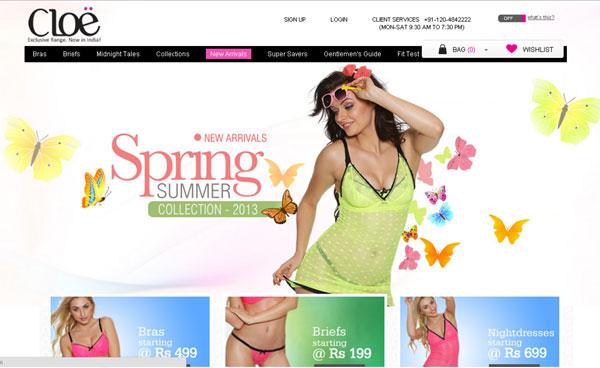 Prior to starting Moodsofcloe, both Agarwal and Chowdhary worked at various fashion houses. Chowdhary is the product head at Moodsofcloe while Agarwal is the creative head.
The venture raised the funding just a couple of months before making the site live in January this year. However, the company had not disclosed it till now.
Talking to Techcircle.in, founder and CEO Neha Kant said that the firm's value proposition is fashion lingerie, which is currently an underserved market in India. "We are looking at offline expansion in the top six tier I cities and also contemplating a simultaneous global launch," she added.
Asked about the traction so far, Kant informed that the company has already seen around half a million visitors, with 35 per cent repeat visitors. And the site has processed around 1,000 orders excluding the B2B offering. This means around 10-15 orders a day.
As for B2B, the firm is currently selling merchandise on other e-com sites. For offline expansion, it will first look at selling through other retail outlets before launching its own branded stores.
Online lingerie shopping, as a trend, is picking up. There are quite a few players in this space now, such as StrapsAndStrings, ShopImagine, Oyegirl, Cilory, HerStyle and also PrettySecrets, which recently got funding from Indian Angel Network, Harvard Angels and Orios Ventures.
The most prominent among these is Zivame, which is backed by IDG Ventures and Indo-US Venture Partners. As of October 2012, it was clocking Rs 2 crore GMV per month with 500-600 orders a day and the average transaction value being upwards of Rs 1,200.
Kant argues that their proposition is very different from players like Zivame since they are a private label and offer fashion lingerie, as opposed to branded stuff.
Private label business offers higher margins and while some apparel e-tailers have own branded products along with other brands, a few like Freecultr are solely private label players.
Zurich-based Mountain Partners is a global asset management company running multiple specialised investment divisions. It puts in money through a co-investment model across categories – from cleantech to e-commerce. It has about 120 companies in its portfolio.
For Apollo International, this is yet another investment in the digital commerce space. The firm, led by Raaja Kanwar (elder son of Apollo Tyres' chief Onkar Kanwar), spearheads new business investments and ventures. It had earlier invested in digital UFO Moviez, which offers digital cinema solutions.
(Edited by Sanghamitra Mandal)
---