Verbicio Tech LLP , an incubatee of Kochi-based Startup Village, has rolled out a social job portal called BagYourJob.com. Unlike traditional job listing sites, this one enables recruiters to post job openings which appear as feeds on a jobseeker's wall – just like one sees them on Facebook. Moreover, employers can access complete candidate profiles free of cost and directly communicate with potential recruits via this platform, which is also similar to Facebook messaging, according to co-founder and CEO Midhun Sankar.
"BagYourJob is an amalgamation of social media and a job portal," explained Sankar, as he further detailed its features.
On the site, a user can create a resume page, similar to a Facebook profile, and recruiters can see that. The site has a simple user interface that enables job-seekers to receive updates from recruiters and also from other users right on their walls. Posts from recruiters appear on the left while those from other job-seekers are displayed on the right side.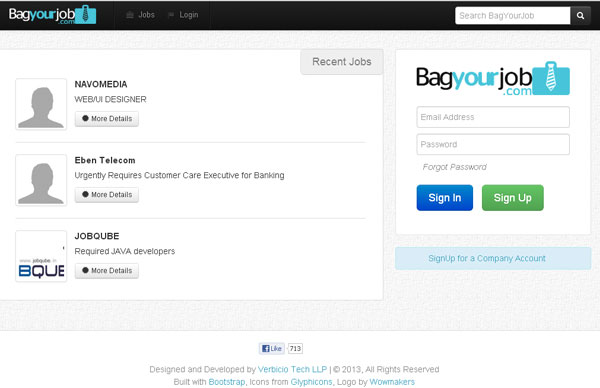 And just like other job sites, this one also covers all types of job postings – right from engineering, banking and teaching to marketing, advertising, designing and more.
However, the site's USP is – it does not charge recruiters to avail its services. "On other job portals like Naukri and Monster, you have to pay to access the resumes of individual job seekers. But BagYourJob is a free platform," Sankar told Techcircle.in.
"We will generate revenues by selling ad space on the portal and also through job fairs," he added. The company claims to have registered over 2,200 job-seekers and 90 employers since its launch a week ago (April 8).
Verbicio was set up in October 2011 by Sankar, along with his friends Bibin George Varghese, Joel Varghese, Nakul E Sibiraj and Midhun KS.
The startup has recently launched Exam Voice, an online tutorial platform that enables students to access and upload educational materials free of cost. Moreover, users with Facebook accounts can upload content in slides, PPT or PDF formats, along with image and voice, to make learning easier and fun. The company claims that Exam Voice has 14,000 hits per month while its mobile versions are available on BlackBerry, iOS and Android platforms.
Verbicio secured Rs 3 lakh in angel funding from a Kochi-based businessman a few months ago. It is now looking for Rs 60 lakh in funding to expand and upgrade its offerings.
Interestingly, Firefly e-Ventures Ltd, which runs the job site Shine.com, partnered with social recruitment platform MyParichay Services Pvt Ltd last December to allow a similar kind of connect – so that recruiters can access the personal networks of job-seekers.
(Edited by Sanghamitra Mandal)
---