5ideas, the seed fund-cum-accelerator floated by the husband-wife duo of Gaurav Kachru and Pearl Uppal who were previously associated with the e-com ventures of the Smile Group, has announced the first close of its investment arm, Startup Superfuel.
Kachru is the former chief executive & co-founder of Smile Group's daily deal site Dealsandyou while Uppal is the former co-founder & CEO of Smile Group's flash sales site Fashionandyou.com. After leaving the Smile Group, the couple founded the platform last year.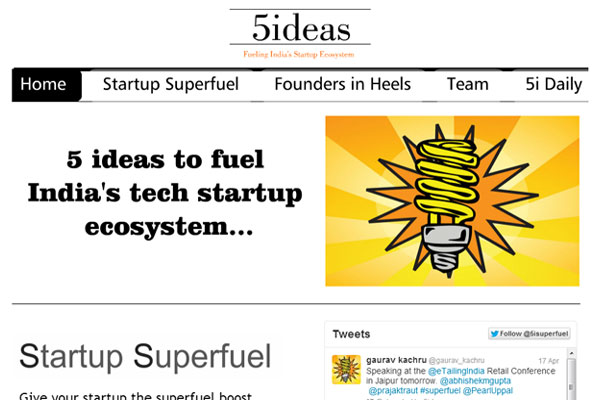 Uppal told Techcircle.in, that the venture got commitment of 25 per cent of the total targeted corpus of $10 million in the first close. The fund is now live and the first investment would be announced within weeks. "Post that, we expect startups to approach us since we are looking to do at least one investment a month to close around 10-12 investments this year," she added.
Startup Superfuel is one of the five ideas that the platform is working upon. Other two 'ideas' which have been announced are Founders in Heels, a platform for women entrepreneurs, and Startup Superfuel Pit Stops, again a platform for startups to interact and network.
Startup Superfuel is a seed stage fund that will provide initial capital to tech startups to help them scale commercially and prepare them for venture capital funding. It aims to invest in 40 startups over the next three years. It will invest between Rs 25 lakh and Rs 1.5 crore in a company and is looking to put in up to Rs 2.5 crore in follow-on rounds. In terms of target sectors, Startup Superfuel will be looking at tech firms in niche e-commerce, mobile and geo-data, SME/B2B-focused SaaS, education, urban parenting, Big Data and ad-tech.
A new crop of accelerator-cum-seed funds have recently entered the Indian startup ecosystem. A few months ago, another such venture was floated by Rishi Khiani, former CEO of Times Internet. He launched a similar initiative called Ant Farm, which is less of an investment fund and more like an incubator. Other active accelerators include The Morpheus, Venture Nursery, GSF, TLabs and The Hatch, among others.
(Edited by Sanghamitra Mandal)
---