Digital learning platform LurnQ , owned by Mumbai-based Technium Labs Pvt Ltd, has rolled out the beta version of LurnQ-Enterprise, a B2B service that targets organisations looking for online teaching platforms. Till now, LurnQ has been offering a free B2C interface for teaching and learning.
LurnQ was set up in 2011 by Tarun Mitra, Ramesh Nidadavolu and Devvrat Arya. Technium Labs, the company behind LurnQ, is an education technology firm aiming to empower both students & teachers, and maximising the resources available across the digital space. Therefore, it provides access to free digital content and focuses on varied topics.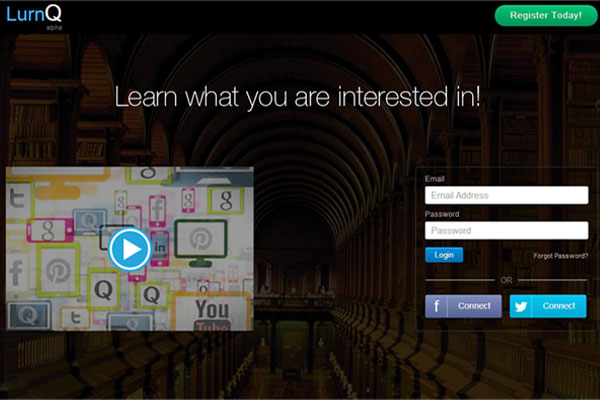 However, the enterprise model has been rolled out to monetise the firm's offering. LurnQ-Enterprise was unveiled a couple of weeks ago and claims to have three anchor clients who are now testing it. As of now, businesses are entitled to 30 days of free trial after signing up.
"The new model enables users to create private learning and teaching communities online," said Mitra, co-founder and CEO of LurnQ. "For instance, offline coaching centres looking for an online platform can do it through LurnQ," he added.
The company is planning to introduce a freemium model for its users. "LurnQ will always be a free, open source service, but one will have to pay to access advanced features. However, we have not decided on the pricing yet," said Mitra.
The startup raised an initial round of funding  from Seedfund last year. It is now seeking to raise $2-5 million in Series A by June this year.
LurnQ claims to have 5,000 registered users and 30,000 visitors till March 2013, including 35 per cent repeat visitors. "As for visitors, we are seeing month-on-month growth of more than 100 per cent and getting around 100 sign-ups a day," informed Mitra. Interestingly, 40 per cent of its users are from the US while 28 per cent are from India. "The US has faster adoption of such concepts owing to higher internet penetration and that's why we get more users there," noted Mitra.
According to him, the company's focus is to provide learning management solutions through technology. And to achieve the same, it currently has a team of 16 including eight IITians. "There are 10 people working on the tech side as our focus is purely technology and not content," concluded Mitra.
(Edited by Sanghamitra Mandal)
---