PayU does a 'Build A Bazaar' with PayUPaisa; shop while you network with CCAvenue's SNIP
Online payment company PayU India  has launched PayUPaisa, a web-based product that will enable small and medium sellers to put their stores online in minutes and transact through the PayU gateway. PayUPaisa was in private beta for the past few months and has come out of beta only today. However, the company claims to have on board 150 sellers even during the beta stage.
But how does it work in the first place? PayUPaisa will enable a business to go online by giving it a free web store, free storefront and e-mail invoicing facility. However, the company will charge a transaction fee of 3.2 per cent, as well as Rs 3 per transaction from each merchant. The idea is to bring small local sellers online and give them a web platform.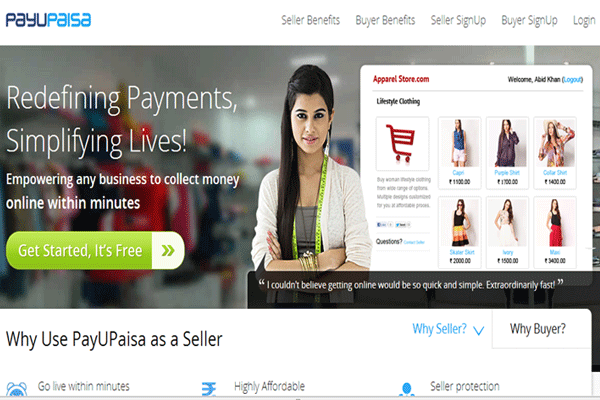 Although it sounds attractive, especially coming from an online payment service provider who seems to be keen on providing end-to-end solutions to empower small businesses without any web interface, such service is not actually new. Infibeam's Build A Bazaar or the more recent SmartStore from BigFoot Retail are doing exactly the same thing – giving an online platform to offline retailers. Also, how can we forget Google's 'India, get your business online' initiative? The only difference is at PayUPaisa, the payment gateway will be integrated with the web store. Queried about the latest development, PayU India co-founder and CEO Nitin Gupta said that by 2016, the company is aiming to get 1 million sellers and 20 million buyers on the platform.
CCAvenue launches SNIP – now shop while you network In another development, another payment gateway company CCAvenue has launched SNIP or Social Network In-stream Payment collection service. SNIP will enable businesses to sell and collect payments in-stream and real-time on social networks like Facebook, Twitter, Pinterest, Tumblr, Instagram, WhatsApp, Google+ and more. This is done by adding a URL to the specific page on the social networking site, which will directly take buyers to the CCAvenue payment page.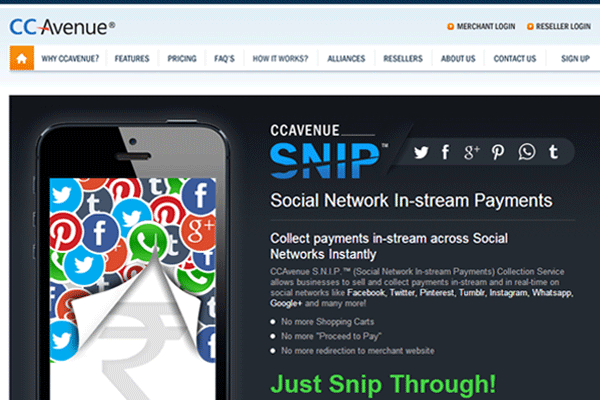 This service is aimed at e-commerce companies with presence on social networks, especially those who often promote their offers through these channels. The 'integrated' URL will enable buyers to skip that time-consuming step – when they are first taken to the merchant's site and then to the payment gateway.
Moreover, SNIP doesn't redirect users to a different payment page. As the payment happens in a pop-up window, users can easily shop while browsing their favourite social networking sites. Sellers can also publicise their offers via QR codes and print them in newspapers, magazines, etc. which end-users can scan. As soon as they scan it, they will be taken to the mobile-friendly payment page of CCAvenue and the rest will be easy shopping.
(Edited by Sanghamitra Mandal)
Comment(s)