App Tracker: A no-holds-barred look at how the apps of OTAs stack up
Are you a Gen Y traveller, digging up more travel apps than you could possibly use to make sure you have a hassle-free trip? Well, so are we, and hence we are kicking off our weekly coverage of the app universe, with the live apps of online travel agents (OTAs) – available on iOS and Android platforms.
So what's App Tracker? Techcircle.in will bring you closer to what's happening in the world of apps, be it covering new products, what's sizzling in marketplaces, how competing apps stand against each other and more. To begin with, we will do this with a weekly post although we plan to increase the frequency as we go along. We will rate each app, give our unbiased view of which one scores highest among its peer group and also talk about innovative apps, which make life easier or fun.
But why OTAs, you may ask. Well, we reckon OTAs arguably created the first set of successful and scalable transaction-based consumer internet platforms in India. However, even as these have been present online for years, it's only now that OTAs are getting users to plan and book their holidays on the go. So here we go.
MakeMyTrip (iOS)
A cool app that lets you book flights, hotels and buses, and also provides information on flight status. And when you log in with an MMT ID, you can also view all booking details (completed, cancelled and upcoming). We tried booking a flight with the app and found the entire process extremely convenient. After entering the date of travel, a number of flights come up and you can choose one according to departure time, price, airlines or ticket refundability. Payment options include credit/debit card and mobile banking (Airtel Money and Interbank Mobile Payment Service). According to MMT, 1.25 lakh users have already made m-payments via the app. Users can also save their favourite routes for quick booking in the future.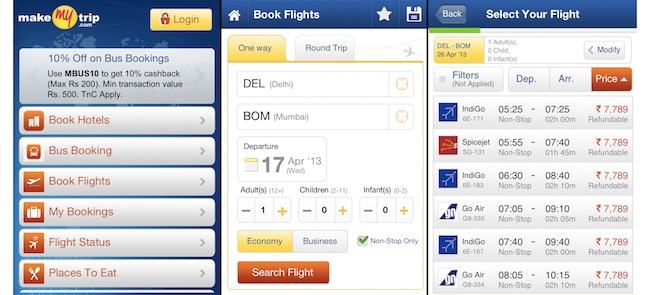 Then there is the ease of navigation. On the top of the page, there is a home button that takes you to the home page irrespective of where you are in the app. The app also showcases a banner that displays discount codes, if applicable.
Another convenient feature is 'Places To Eat', which will help you find nearby eateries – either via location services or based on the city you select. You can search these eateries according to price or ratings. Plus, there is a feedback page where users can rate the app.
Final score: 4.5/5 (A convenient and feature-heavy app that does not let you go wanting).
Cleartrip (iOS)
Unlike the MMT app, this one is essentially a flight-booking tool. Although there is an option for booking hotels and trains, if you click it, you will be only redirected to the mobile version of the Cleartrip site (so no booking is possible from the app itself). Users can search flights by departure time, non-stop flights and preferred airlines, but the price filter is conspicuously absent (which is kind of weird). But by default, prices are displayed in ascending order.
For ease of use, the app displays your recent flight searches and if you are logged in through your Cleartrip account, it also auto-fills passenger details while booking. Payment options include credit/debit card and net banking (note that net banking is missing in the MMT app). Also, similar to MMT's My Bookings section, this one has a Trips section that stores all your flight, hotel and train bookings – both for upcoming and past trips.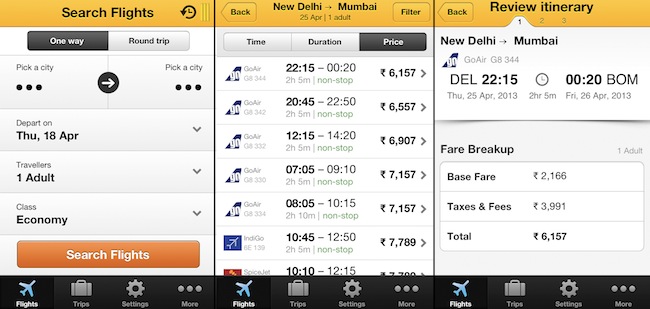 But the most interesting feature is ExpressWay, which allows users to make 1-click payments for their travel by storing their card details in the app. According to the company, the payment information is securely protected (with 128-bit encryption) and can't be misused. The app also supports the Passbook feature for flight, hotel and train bookings. The site has also added location and time-based Passbook notifications through which passes will automatically pop up on a smartphone's screen.
Although the MMT app offers a lot more (in terms of booking options), Cleartrip has come up with a really cool app that you can't afford to miss.
Final score: 4/5 (Can easily be 4.5 or even 5, but the company needs to add more booking options).
Expedia (Android)
This one is not an Indian app but we have included it as it comes from one of the biggest OTAs globally. Geeky travellers will love this slick app and the UI gets all the credit. There are two parallel vertical carousels on which you can scroll to book hotels and flights. The hotel carousel also lets you see deals on certain hotels and if you click on the tab, it will take you to the hotels section (that's really cool). Also, it picks your location within seconds and presents a list of nearby hotels. By default, the pricing is in pound (GBP), but you can change it by going to settings and changing the country to India. After selecting a hotel, you can simply click on it and get loads of relevant information like exact location, property amenities, policy and nearby tourist spots. Expand the 'pictures' section and you will come across various images of the hotel to scroll through.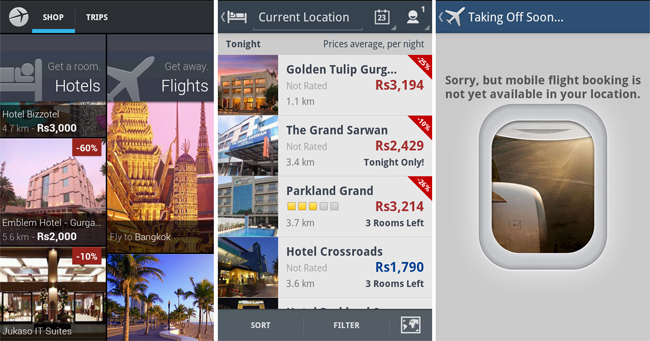 The flight booking part is equally convenient. By clicking the flight tab, one can search a flight and select the number of people, as well as the duration of the trip. While selecting dates, one has to drag the dates to extend or reduce the number of days. Pretty simple and sophisticated, we should say. But the major catch is that in India, mobile ticket booking for flight isn't live yet. As for user interface and visibility, the app oozes sophistication and sets the bar quite high.
Final score: We give this app 3/5 (It is clearly a 5/5 but well, half of the services it offers are not yet live in India).
Yatra.com's Travelbuddy (Android)
This Android app from one of the top three Indian OTAs is definitely lacking the wow factor. Unlike the portal (where you can book both flight and train tickets, as well as hotels, travel packages and combo offers), it only offers flight booking and the user interface looks pretty drab. One can search for flights by price, arrival/departure time and duration, but it seems to be crawling at times.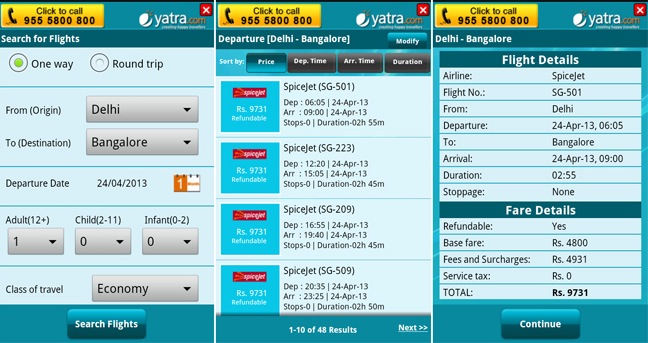 We have also noticed that the app hangs when one is looking for round-trip booking. Another downside is the limited payment option – you can only pay through credit cards. Not a great app, to be sure, and if you haven't tried it yet, you haven't really missed much.
Final score: This one gets 2/5 (That's no surprise, going by its current offering).
Goibibo (Android)
Unless you are abstaining from television watching, you must have come across its latest commercial that keeps harping on the R (reliability) factor. And its Android app is pretty convenient as you can book both flight and bus tickets besides searching for m-tickets. You can search flights by price and time (departure/arrival) and can browse through recent searches as well.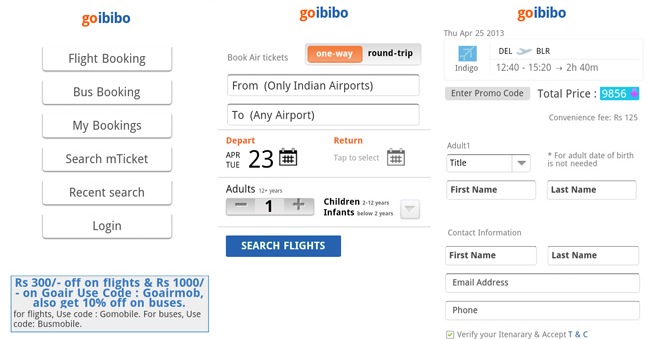 Bus booking is similar to flight booking. Compared to other travel apps, Goibibo is faster and sports a clutter-free, user-friendly interface. You will also find 'offers for the day' displayed on the bottom of the home page, thus ensuring quick access. And unlike Yatra, here you get multiple payment modes including credit/debit card, net banking and a convenient credit card EMI option.
Final score: We give it 3/5 (That's for now, but going by what the others are offering, adding more features could surely get it into the top rung).
You will find various other great apps in the market, such as iXiGO and redBus apps that we are not covering here. iXiGO is an information aggregator and takes you to the merchant site upon the selection of the required flight or hotel. Users get a list of merchants offering the flight (or hotel) and the phone numbers are also given so user can also give a call for booking. Users can also search flights, hotels and other utility features like flight tracking and airlines' contact numbers on the app without needing to surf up to any merchant site or information portal. redBus is a slick app for bus ticket booking, but since it does not offer a comprehensive bouquet of travel options, we are skipping it here.
We suggest that you take a tour of the apps mentioned above and share your comments with us. For now, MakeMyTrip seems to be the clear winner although Expedia and Cleartrip seem the most promising ones and may soon catch up with MMT. We have also looked at the download numbers of these apps on the Android platform and there, too, Expedia is leading the pack with more than 1 million downloads over the last 30 days (though this would also capture downloads in other markets as Expedia is not an India focused OTA), followed by Yatra's Travelbuddy, MakeMyTrip and Goibibo with 100,000-plus downloads each and the last is Cleartrip with 50,000-plus downloads (although all these apps are free on both iOS and Android).
Keep watching this space for your weekly dose of App tracking.
(Edited by Sanghamitra Mandal)
Comment(s)