Tech startup Kriyate develops Braille-enabled smartphone; how it helps the visually challenged

Kriyate Inc, a tech startup being mentored by IIM-Ahmedabad's Centre for Innovation, Incubation and Entrepreneurship (CIIE), claims it has developed a Braille-enabled smartphone for the visually challenged – helping them 'feel' the information on the screen. The company was set up in October last year by Sumit Dagar, who was selected for the Rolex Award for Enterprise in 2012.
"We have finished working on the first prototype and we will launch the phone sometime next year," Dagar told Techcircle.in. The new device may cost around Rs 10,000 and Dagar is looking to tie up with mobile companies to market the product.
To create the prototype, Kriyate has also joined hands with IIT-Delhi and LV Prasad Eye Institute, Hyderabad, which is doing research on Braille-enabled smartphones.

"We are utilising the Rolex Award money (50,000 Swiss francs or $53,000 awarded to each of the five global winners) for prototyping the phone and have started working on the advanced version as well," said Dagar.
He holds a master's degree in Information and Interface Design from National Institute of Design (Ahmedabad) and a B.Tech in Information and Communication Technology from Dhirubhai Ambani Institute of Information and Communication Technology (Gandhinagar). Prior to starting Kriyate, he had worked as an interaction designer in companies like Whirlpool Corporation, Microsoft Research India and San Francisco-based Frog Design Inc.
But how does the device work?

"This phone has repressible Braille display. The grid has pins which go up and down, so that visually impaired user can touch them and read the info (in the same way Braille books are read)," explained Dagar. Other media reports suggest that the device also uses shape memory alloy, so that the metals get back to their original position after being pressed.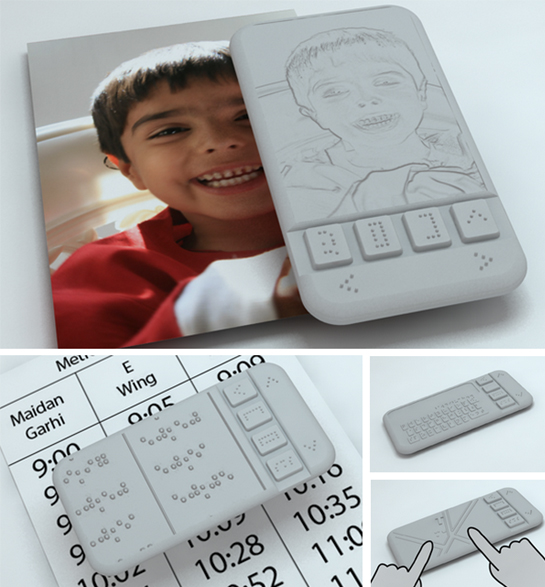 The phone also uses 'haptic touch' for communication, which means it beeps or vibrates whenever it receives any command. For example, if you select the 'send message' option, the phone will vibrate softly. Other features in the device are similar to those found in traditional smartphones.

There is a vast market for the upcoming product as nearly 39 million people worldwide are blind and 285 million people are visually impaired, according to World Health Organization. And there are more than 12 million visually impaired people in India, according to National Association for the Blind (NAB), one of the largest non-government voluntary organisations in India.
Kriyate is not a pioneer in this space, though. There are other mobile devices available in the market for the visually challenged. In 2011, Delhi-based Intex Technologies, the IT hardware company that owns Intex Mobiles, launched Intex Vision in India. The phone was first launched by NAB for its students and faculty. Priced at Rs 2,600, it has a Braille keypad with large buttons (for easy pressing), as well as a talking keypad that speaks out the number being pressed. Other features include expandable memory up to 2 GB, mp3 player, mobile tracker and auto call record, and FM radio.
Last July, an Android-based mobile app called Georgie  was also rolled out for visually challenged users. The app enables people with little or no sight to accomplish daily activities that could be difficult for them.

Users can navigate the app's features by passing their fingers over various options, which are then read aloud. It can make calls, send texts and also provides location-based technologies, which lets users know, for example, when the next bus is coming or which direction they're facing. It can also set location-based reminders and reads out text, such as ingredients on a label, using a technology called optical character recognition (OCR). The app is available for $230.
(Edited by Sanghamitra Mandal)
---