Yebhi raises $12M bridge round from existing investors

Big Shoe Bazaar India Pvt Ltd, which runs fashion and lifestyle e-tail venture Yebhi.com, has raised $12 million (Rs 65 crore) from its existing investors in a bridge round, sources told Techcircle.in.
Its existing investors include Fidelity Growth Partners India, Qualcomm Ventures, Nexus Venture Partners and Catamaran.
The firm has been in the market to raise a much larger round of fresh capital and the bridge funding will allow the firm to burn some more cash in the interim period. The industry has been rife with rumours that Yebhi could be the next consolidation story in the e-com space, which is struggling to find new investors. This is partly due to issues over regulations related to FDI in the sector as also investor concerns over bulging losses.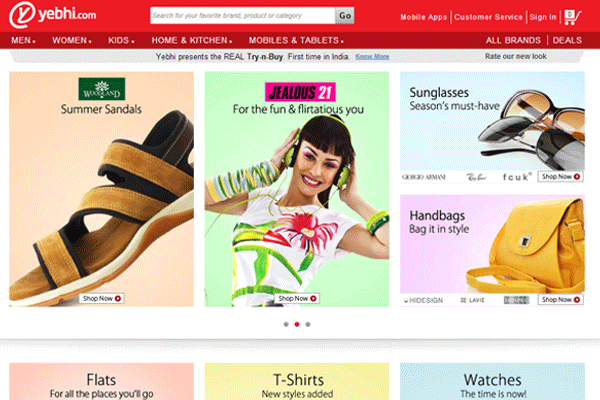 When contacted by Techcircle.in, Manmohan Agarwal, founder and CEO, Yebhi.com confirmed the bridge round but declined to comment any further on the quantum of funding or what the firm wants to do with the money. He said the firm was looking for funding but with the bridge funding it is not in the market scouting for more funds.
However, sources close to the development sad the firm is still looking to raise as much as $40 million in fresh funding.

Yebhi.com, had last raised Rs 100 crore ($18 million) in Series C funding. The round was led by Fidelity Growth Partners India and Qualcomm Ventures and existing investors Nexus Venture Partners and Catamaran also participated in the round.
It had raised around Rs 50 crore ($9 million) previously in two rounds. In 2011, Catamaran Ventures "the private investment arm of Infosys co-founder N.R. Narayana Murthy, led the second round of funding worth Rs 40 crore. In 2010, it had raised its series A worth Rs 10 crore from Nexus Venture Partners.
The latest funding means it has scooped a total of around $39 million (Rs 215 crore). This would bring it almost neck and neck with Myntra in terms of quantum of funding. Fashionandyou is amongst the most heavily funded peer group in fashion and lifestyle space. Yebhi also competes with players like Jabong, Pepperfry, Zovi, etc.

Yebhi.com offers products across categories like home, lifestyle & fashion and electronics. It recently added online prepaid mobile recharge also on its site.
Agarwal informed that the site is currently doing nearly 5-figure orders a day (we are guessing it would be around 9,000 orders on an average day) with an average basket size of around Rs 1,700. This would translate into daily gross merchandise value of around Rs 1.5 crore or Rs 45 crore a month. Yebhi manages its own logistics and last-mile delivery in all major cities.
---