Mumbai-based Graphic India, which creates comic characters and super heroes for offline and online worlds, is looking to tap into the 500 million-strong youth population in India to grow its business, a top executive of the firm told Techcircle.in.
Graphic India, which raised an undisclosed sum in January from CA Media, the Asian investment arm of The Chernin Group, LLC (TCG), for a large minority stake, is also planning to roll out apps and e-books for iOS and Android devices in a couple of months. Additionally, it will soon introduce printed comics, graphic novels and other related merchandise in India and the US, according to co-founder and CEO, Sharad Devarajan.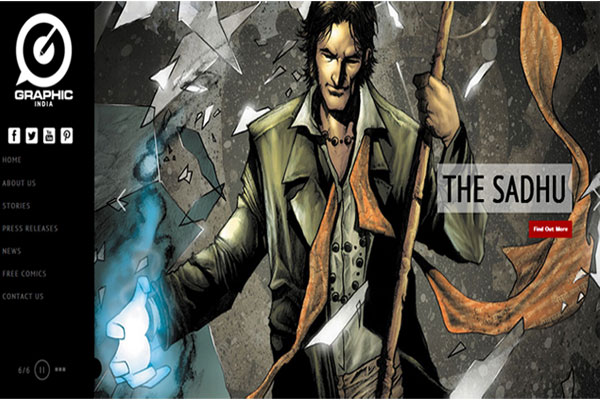 The firm was set up in 2012 by media entrepreneurs Devarajan, Gotham Chopra (son of US-based alternative therapy practitioner and speaker Deepak Chopra)and Suresh Seetharaman as a subsidiary of the US-based Liquid Comics, a digital entertainment company that uses the medium of graphic storytelling to develop original content for various digital platforms, publishing, theatrical live-action films, animation and games. The company is looking to launch mythological and superhero characters and storylines for the Indian youth audience with the help of animated shorts, digital comics and associated media content.
Devarajan holds an MBA from the Columbia University and a BFA degree from Syracuse University in the US. Previously, he was the co-founder, CEO and publisher of Virgin Comics LLC and Virgin Animation Pvt Ltd. His partner Chopra is a journalist and documentary film-maker by profession while Seetharaman co-founded Gotham Entertainment Group, a South Asian youth magazine.
Graphic India has already partnered with POW! Entertainment and Stan Lee to create Chakra The Invincible, its first superhero for the Indian market. The firm is also working on a few animation projects for Indian television channels, according to Devarajan, but he did not provide further details. "We are also developing other projects for live-action feature films in Hollywood, such as Ramayan 3392AD. We are doing it with US-based multimedia entertainment firm Mandalay Entertainment Group," he added.
According to the company, its core digital product will be its mobile apps, to be available on a freemium basis. Those who download them will receive free content every week, with an option to upgrade and access the company's entire library of hundreds of comics & videos – across devices and directly from the cloud. The content will be available for a flat monthly subscription.
"Smartphones and tablets will continue to rise, making these devices the new second screen for the youth audience. That will help us engage with them and monetise the content. Moreover, we see a real void in the character entertainment space when it comes to quality entertainment that has the potential to appeal to global, non-Indian audiences," observed Devarajan.
Asked about the business model, the CEO said, "We can sell digital comics, digital animation, e-books, merchandise, toys and publications directly to our consumers or we can enter into partnerships and licensing relationships with third parties, such as live action films & television companies and video games developers."
Graphic India sees a huge potential in the character entertainment industry in India. "India has the potential to become one of the biggest creative exporters in the years ahead, in the same way the West has created superheroes or Japan, Korea and China have exported their anime, manga, manhwa and original style of storytelling to the world," said Devarajan.
There are a few companies operating in the character-based entertainment industry, including Mumbai-based Walt Disney International (India) Pvt Ltd, a subsidiary of Walt Disney Co. that develops and produces motion pictures and videos for children. Delhi-based Raj Comics, a division of Raj Pocket Books, also focuses on superhero-centric comic books. Can Graphic India add a significant brand to the mix and wow the global audience with its homegrown superheroes?
(Edited by Sanghamitra Mandal)
---