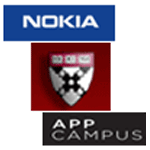 Harvard Business School Alumni Angels (India Chapter) has joined hands with Nokia India and AppCampus, a Finland-based mobile app development program funded by Nokia and Microsoft, to launch Appcelerate-India, an Indian startup accelerator for the mobile ecosystem.
As a part of the initiative, AppCampus and HBS Angels will put in more than $500,000 (Rs 2.7 crore) into Appcelerate-India and provide a combination of grants, seed funding, mentoring, incubation to discover disruptive applications and nurture talented startups, said a press statement.
The program will also provide coaching, marketing support, training in mobile technology, design and usability to create innovative new mobile apps and services.
"India has strong technology credentials and a renowned entrepreneurial background. The successful evolution of the technology industry in India presents a great opportunity for mobile app developers. We are now seeing a massive spurt in passion from the local ecosystem towards entrepreneurial ventures in mobile products," said Ravi Gururaj, cofounder, HBS Angels India.
Promising ideas from the Nokia India's first consumer app reality television show, Your Wish Is My App, as well as submissions from the local ecosystem will be considered for investment and incubation.
"Nokia aims to support Indian app developers to drive path-breaking innovation on our platform. We believe that this will open up countless opportunities to shape the app ecosystem, giving developers the chance to give new and innovative experiences to consumers," Gerard Rego, director- developer experience, Nokia India.
---