Travel search engine service ixigo  has rolled out yet another travel-related app called On the Way. The new app targets anyone on a road trip and looking for handy information on restaurants, petrol pumps, ATMs and more on the route.
This is the third app from ixigo in the past two-and-a-half months. Earlier, the company launched myPNR for automatic tracking of flight and train status. Next came an app for train tracking and real-time information regarding trains. On the Way is the third app from the ixigo stable. These apps are currently available on Android, but will be launched on iOS and other platforms soon.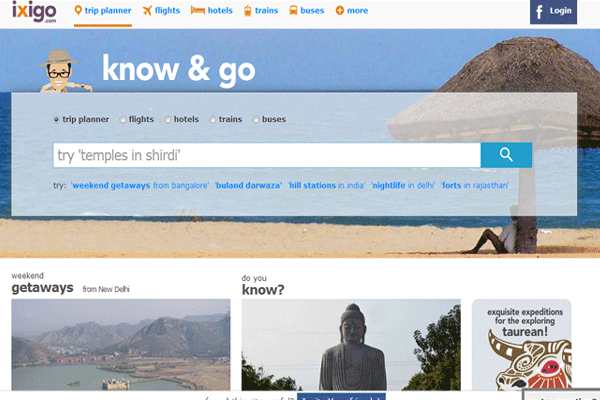 On the Way is a location-based app that enables road travellers to access relevant information on all useful and interesting stoppages along their routes. The app covers utility information for both inter-city and intra-city road trips, including state and national highways between destinations. Its features include a map-view showing the entire road journey, with points of interest plotted along the way and a list-view showing nearby places. Users can also search places by name in any of these categories – eateries, petrol, liquor shops, ATMs, attractions, hotels and medical stores.
According to ixigo founder and CEO Aloke Bajpai, the company has facilitated data for 500 important routes but also offers aggregated information on other routes. "In total, we have more than 3 lakh points of interest marked on our app," he told Techcircle.in.
Commenting on the idea behind the app, Bajpai said weekend road trips and road trips in general are extremely popular in India, but there is no suitable app that provides information regarding all useful stoppages on a route. "Our app is different as we have all interesting stoppages (nearby or on the road) marked. Also, we provide detailed information. For instance, you will not only find a petrol pump is coming up but will also know which petrol pump it is – whether it is an Indian Oil facility or an HP one and so on. The symbol comes on the map itself," said Bajpai.
Asked what the strategy is going forward (since we have already seen three apps within a short time span of 2.5 months) Bajpai observed that mobile is a key focus for the company and it has plans to introduce more apps for travel-related use cases, but nothing is in the pipeline right now. Queried why ixigo didn't launch a single bundled app, Bajpai said, "Our research shows that people remember one app for not more than one usage. If you bundle everything, it may not have that much recall. We are also looking to target different audiences with different apps. Hence, we are launching separate apps."
(Edited by Sanghamitra Mandal)
---