Jade Magnet pivots to managed crowdsourcing from open platform
Bangalore-based Jade Magnet Online Pvt Ltd, which enables businesses to 'crowdsource' design projects, has pivoted to a managed outsourcing model from an open platform.
The new model does not allow general participation and only experts with relevant skill sets are now eligible for this platform, said Sitashwa Srivastava, co-founder and CEO of Jade Magnet. In the earlier model, anyone could post a project and anyone could participate & contest.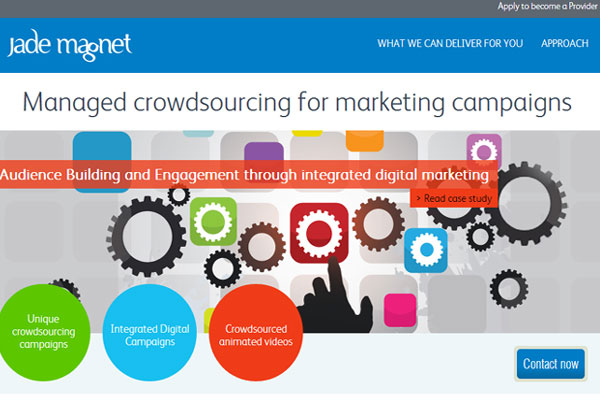 "In the open model, projects used to be uploaded on a platform and creative professionals submitted their designs for the client to choose from. However, the output was not always consistent and might not work to the advantage of the brands at times. Also, the open space was getting commoditised with multiple design contest platforms coming up," said Srivastava.
"In contrast, the managed crowdsourcing model works better for businesses looking for consistent and integrated delivery of creative and marketing campaigns. In this model, we select the best providers (from creative and technology areas) based on project-specific needs. We also curate virtual teams with professionals spread geographically. That way, we are able to serve bigger brands for deeper and impactful marketing and creative requirements," he added.
The new approach will enable Jade to work with large brands like Clarks (one of the oldest footwear brands in the world) and SingPost (Singapore Post), as well as emerging brands like ngpay, according to Srivastava.
In the open model, Jade used to charge 20 per cent of a client's budget while service providers were paid the rest. But in the new model, it takes almost 30-40 per cent. Also, in the open model, the ticket size per customer was around $500, but now it is around $2,000. However, the platform is still free for service providers as it was before.
Srivastava also said that the new approach helps the firm lock in revenues for a longer period of time, instead of just doing one-off projects for SMEs.
Founded in 2009 by Srivastava and Manik Kinra (CMO), Jade Magnet is a technology platform that focuses on crowd-sourced solutions. The platform connects to businesses and creative professionals from all over the world. Creative providers build designs and collaterals that help businesses get closer to their customers.
The firm serves global giants like Bosch and is targeting $2 million in revenues from its overall operations in FY14. With around 19 people on board, it is now looking to ramp up the team by hiring more people for sales and marketing in the Asia-Pacific region.
Jade Magnet had raised $200,000 in angel funding in October 2009 from Muki Regunathan, founder of the Bangalore-based digital agency Pepper Square. In 2011, it raised a second angel round of $100,000 from Eric Papcun, a US-based technology professional.
Design crowdsourcing is not a niche space and quite a few design contest sites are operating in India, including 99designs and Australia-headquartered DesignCrowd (which has recently forayed into the country). However, no firms are currently operating in the managed crowdsourcing space, which may provide some competitive advantage to Jade, post its pivot.
(Edited by Sanghamitra Mandal)
Comment(s)