Voylla.com, a jewellery and accessory e-tailer owned by Bangalore-based Voylla Retail Pvt Ltd, has raised Rs 2.5 crore in funding from Pune-based Snow Leopard Technology Ventures, a venture fund that provides seed capital to internet and technology businesses in India. The money raised will be primarily utilised to expand the startup's operations and marketing initiatives.
As part of the investment, Chris Kolenaty, partner at Snow Leopard, will join the board of Voylla.
"The capital raised will further accelerate our expansion plans and will largely be deployed for operations expansion and marketing spend to enhance our ability to service jewellery customers around the world," said Vishwas Shringi, co-founder and CEO of Voylla.
The company was set up in May 2012 by two former Amazonians, Shringi and Raj Uparkar. While Shringi had earlier worked with companies such as Ansoft Corporation, Uparkar had worked at firms like Degenkolb Engineers. Shringi holds a B.Tech in Chemical Engineering from IIT, Madras, and an MBA in Finance, Strategy and Operations from Tepper School of Business, Carnegie Mellon University. Uparkar holds a B.Tech in Civil Engineering from IIT, Mumbai, and an MBA in Finance from Walter A. Haas School of Business, University of California, Berkeley.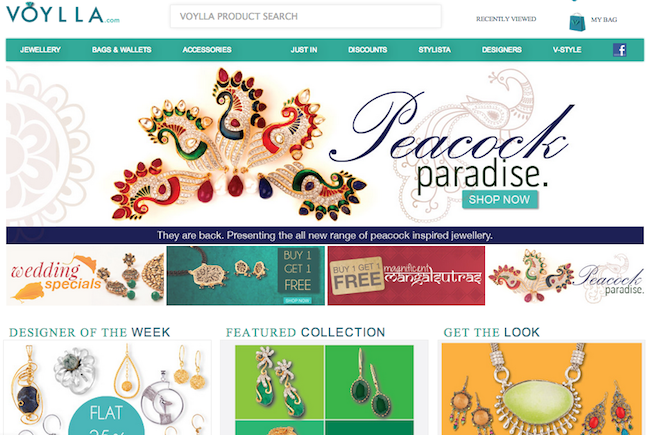 Although the company started off as a designer apparel e-tailer, it later forayed into exclusive jewellery, as well as accessories. The site currently offers semi-precious, precious metal and gemstone jewellery for women across a number of categories including anklets, toe rings, necklaces, pendants, earrings, rings, bangles and mangalsutras. In addition, it also sells bags, wallets and other accessories like scarves and stoles.
As of now, the site features 3,231 products in the jewellery section, 286 products in the bags & wallets section and 71 products in the accessories segment. It claims to be adding a minimum of 300 new designs per week and says that quite a few of its customers are repeat buyers. Last we checked, the site was offering products from a number of designers including Varsha M, Devika Arora, Manisha Singh, Anju Bansal, Anil Kabra, Aastha Jain, Bhairavi Malkani, Manjari Singh and Abhishikta Pandit, among others.
Last October, the startup raised  under Rs 1 crore in angel funding from unnamed investors. At that time, it said that the money raised would be invested in marketing and also to expand the operations team.
In the online jewellery segment, the company competes with the likes of Bluestone.com, Caratlane.com, 21Diamonds and Juvalia & You, among others. In November 2012, MM Retail Pvt Ltd, which runs the artificial jewellery retail business Youshine, raised $1 million (Rs 5.5 crore) in its second round of angel funding.
(Edited by Sanghamitra Mandal)
---