App Tracker: Which e-commerce app stands out from the crowd and why?

Last week we brought to you a no-holds-barred look at how the apps of OTAs stack up and this time around we are looking at how the popular e-commerce companies fight it out via their apps on the iOS and Android platforms. E-commerce has been one of the fastest growing online categories and a large number of Internet users have already purchased or tried purchasing (considering the high number of failed transactions) a product online at some point. So it was an easy choice to bring out a review. What we found surprising was that a few large (and well-funded) e- commerce firms do not have their own smartphone apps.
While MakeMyTrip was adjusted the best OTA app, who will win the crown of the ultimate e-commerce app? Read on to find out.

With the app, users can buy and sell items, compare prices and search products. The app also has a RedLaser barcode scanner integrated into it. Users can find products by either typing in a search query or choosing from a number of categories and sub-categories. All the items are displayed according to whether they are up for auction or available for immediate purchase and users can refine the search further according to price, brand, operating system, colour, etc. (refine options differ depending on the category).
While the basic features are available to everyone, users can make the most of the app only after signing into it. Once signed in, the homepage displays received messages, reminders, saved items/sellers and a counter displaying the number of items the user is buying, watching or selling. A 'Star' icon allows you to save a search for quick access later and eBay also notifies you when a new matching item is found. You can also set up notifications and 'bid alerts' to let you know when the bid for the item selected by you is ending, when you are outbid, whether you have won or sold an item or have received an offer for the item you are selling.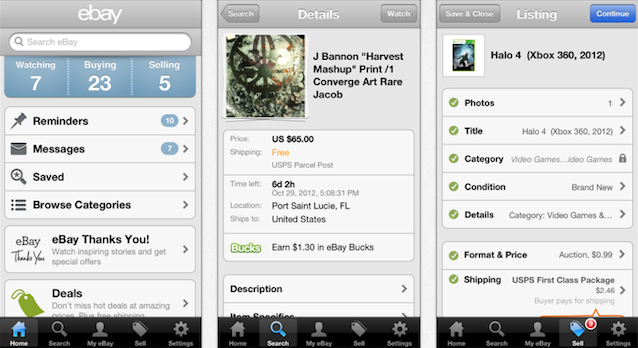 By default, the app shows recently viewed items and users can also share a product via email, SMS, Facebook and Twitter. Then there is a 'Popular Searches' feature that offers a list of products that other people are looking for on eBay.
The only drawback of the app is the fact that you cannot pay for products using the app as mobile payments is only supported in a limited number of countries and India is not one of them. The company instead offers a 'Commit To Buy' option, according to which the user enters a binding contract to buy the item from the main site.
Final score: 3.5/5 (eBay needs to enable mobile payments for India)

The app enables users to purchase products in a number of categories and sub-categories. Like the eBay app, users can either select a category to view available products or search for one using the search tool. We tried out the search tool and found that it's not very accurate—for an iPhone search, it also showed Samsung handset covers. Apart from filtering products according to price, brand, type, etc. (similar to the eBay apps, filters vary depending on the category), users can also 'Sort' products according to their popularity, discounts, whether it is a new listing or from top sellers.
The app allows users to customise the 'Home screen'. This means that they can select their favourite categories and only those are displayed on it. Users can also sign in with their existing HomeShop18 accounts to access their cart, payment and shipping options. Once a product is selected, the checkout process is smooth and can be completed in a few steps. Users can also input gift/discount coupon codes (if they have one) to avail discounts on the products. Interestingly, the only available payment method is cash on delivery (COD), which means mobile payments are not available on this app as well. But we are not complaining since most consumers anyway opt for COD.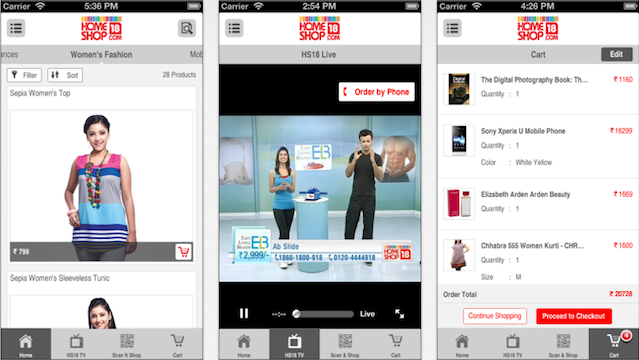 A 'Scan n Shop' feature allows users to scan ISBN number of a book and instantly buy it from the company (the app also saves scan history). You can also view details of a product by scanning its QR code from within the application. In addition, users can view a live stream of the HomeShop18 TV channel from within the app via a 'Live TV' feature. While viewing, if a user likes a product and wants to purchase it, he/she can do so through an 'Order by Phone' option that automatically calls the company via the user's mobile phone.
Final Score: 4/5 (The user interface can be made more colourful and engaging)

This app falls way too short of our expectations, as after all it's from the big daddy of Indian e-commerce, Flipkart itself. Slow and cumbersome, the user interface is not at all appealing. It looks like a mobile version of the website, that too a bad one. Users can search from the various categories in a scroll-down menu on the home page or search an item on the search bar at the top. If you have a Flipkart account, it is better to use that since a 'guest user' will have to fill a lot of forms for his/her first purchase which is a time-consuming process and difficult on the phone. Though users can see enlarged images of the product, we were not able to zoom on the pictures through the app.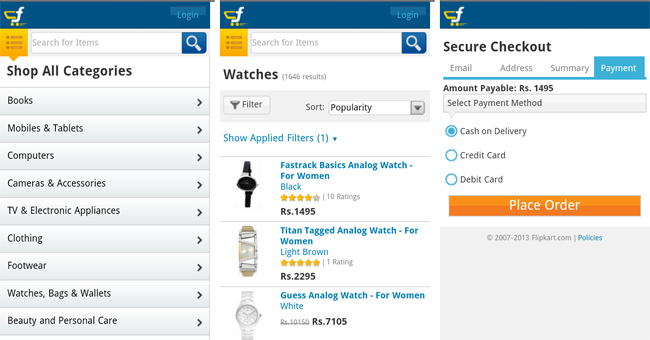 It offers COD, credit cards and debit cards as the payment options; net banking is absent and so is its online wallet as a payment option. The app is unresponsive and lags at several places. Nothing great to have on your phone and can be given a miss easily. In the main app, Flipkart doesn't allow purchase from its digital store for music and Flyte e-books. The company has a separate app each for music and e-books. These apps, however, are much slicker and prompt than the Flipkart shopping app. The UI, responsiveness and visual appeal all score much higher. Through Flyte app users can also top up the online wallet.
Final rating: 2/5 (Flipkart needs to catch up if it wants the same response as its portal on the app)
This comes as a surprise package. The visual appeal and interface are much better with a lot of pictures on the home page. A quick and responsive app, users can shop for all categories on the website and the layout is pretty engaging. The home page has latest offers from brands apart from popular categories and users can also search products using the search bar. The font of the product description and other content is bigger and thus easier to read on a small screen.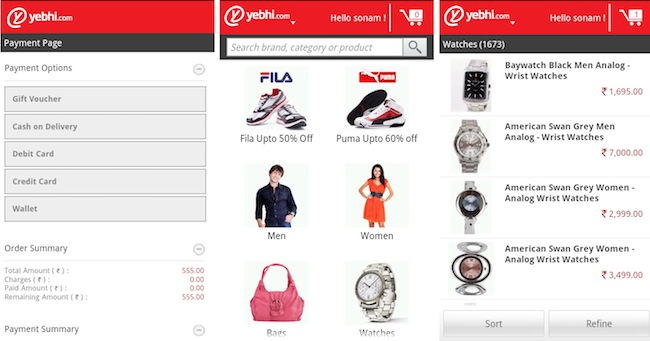 This app would also be smoother for users who already have an account with Yebhi. It also offers multiple payment options like COD, credit card, debit card along with gift vouchers and the online wallet. It is a great app for shopaholics and gets an above-average rating from us.
Final rating: 3.5/5 (Yebhi offers a mobile recharge facility on its portal that is missing in the app. Also a little more work can surely be done on UI)
It failed miserably at the initial stage and opened in the Android device in the third attempt. Even after opening, it was lagging at every point. The user interface is clean though it is a really slow app. Users can also get lost in the sea of categories that Snapdeal offers (maybe the advantage of marketplace about diverse product assortment does not translate for the app).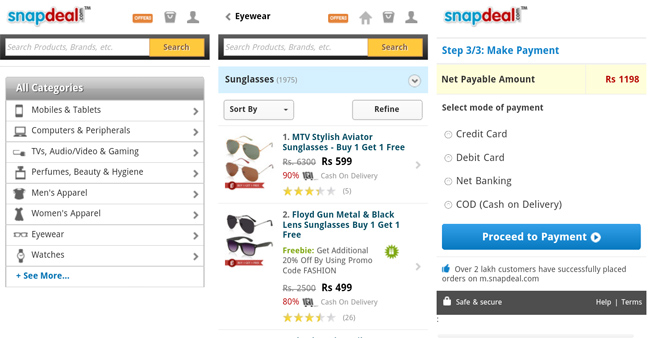 It has a separate tab for all special offers which is the coolest thing about the app since one can browse through all offers at once. It also offers the usual payment methods—COD, debit card, credit card and net banking. Definitely, a patient shopper's app.
Final rating: 3/5 (A lot of bugs need fixing to make it faster and more responsive)
While most of the prominent e-tailers have come up with their apps, only a few have actually made them user-friendly. Going by the number of downloads, eBay is the most popular among the ones we featured with more than 10 million downloads (on Android, that too over the last 30 days). This is understandable as eBay does not have a separate India app and these are global download numbers. Flipkart comes second with over a lakh (over 0.1 million) downloads. Both Snapdeal and HomeShop18 have 50,000 plus downloads, while Yebhi has the lowest count with only 10,000 downloads. Although we feel that the number of downloads is more due to the popularity of the company rather the quality of the app.  Also, while all the apps have seen downloads, how many transactions are actually happening via mobile phones is something to be reviewed.
Having said that, HomeShop18 is our winner in terms of usability. Do give these apps a try and share your own reviews with us while you wait for the next App Tracker.
(Edited by Sanghamitra Mandal)
---