Mobile security startup i7 Networks rolls out BYOD security solution for enterprises
i7 Networks Pvt Ltd, a mobile security startup being incubated at Bangalore-based Microsoft Accelerator for Windows Azure, has launched PeregrineGuard, a BYOD (bring your own device) security solution for enterprises.
PeregrineGuard monitors personal devices in use across enterprise LANs (local area networks) and offers a comprehensive security solution through a few simple steps executed across wireless networks, without intruding on user privacy. It provides auto discovery, visibility and access control, and specialises in all devices that connect to wireless network infrastructure. This is especially suitable for corporate headquarters, mobile business professionals, remote workers and guests.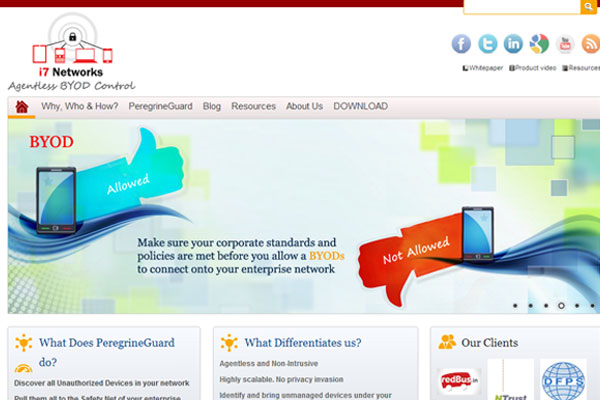 Set up in May 2012 by a group of nine entrepreneurs, i7 has already secured $250,000 from three angel investors, including Indian Angel Network member Sharad Sharma.
Currently in beta, PeregrineGuard doesn't require any change in infrastructure and can be deployed and provisioned within a short time. The product is available in two versions – PeregrineGuard Standard and PeregrineGuard Lite. The Lite version mainly does BYOD discovery and provides details of the device type, operating system and version besides doing a dynamic health check. The standard version adds the policy enforcement module on top of Lite.
"Security is a major issue in today's enterprises where employees like to bring their own devices to work and use apps of their choice to be productive. Unauthorised/undetected devices accessing the corporate network increase the risk of data leakage and exploitation of vulnerabilities," said Manjunath M Gowda, CEO and co-founder of i7. "This is where PeregrineGuard comes into picture. It offers the enterprise IT managers an easy and effective way of securing the network by providing several controls that help discover BYODs, maintain an inventory of devices in use in a network and apply highly granular access control," he added.
Prior to of i7, the founders had set up S7 in December 2003. It offered software migration-related products and services, and was acquired in January 2010 by California-based Bluecoat Systems, a provider of web security and WAN optimisation solutions.
(Edited by Sanghamitra Mandal)
Comment(s)