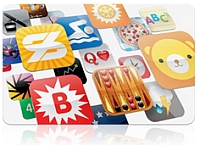 Apple has announced that its app store is about to hit 50 billion downloads. While it took the company 10 months to reach 40 billion downloads (achieved in January 2013) from 25 billion downloads (reached in March 2012), it may complete the next 10 billion downloads in under four months. At this rate, the company should cross the 70 billion mark before the end of this year.
To mark the occasion, Apple has put a countdown on its website that is showing the current rate of app downloads from the store. A message on the site reads: As of today, nearly 50 billion apps have been downloaded worldwide. And we couldn't have done it without you. So we want to say thanks.
Apple is also giving away a '$10,000 App Store Gift Card' to the lucky user who downloads the 50 billionth app. In addition, it will give $500 worth of App Store Gift Cards to the next 50 people who will download apps from the store. One can redeem the prize at the iTunes Store, App Store or iBookstore (as per availability in the winner's country). The total value of all prizes will amount to $35,000.
Winning criteria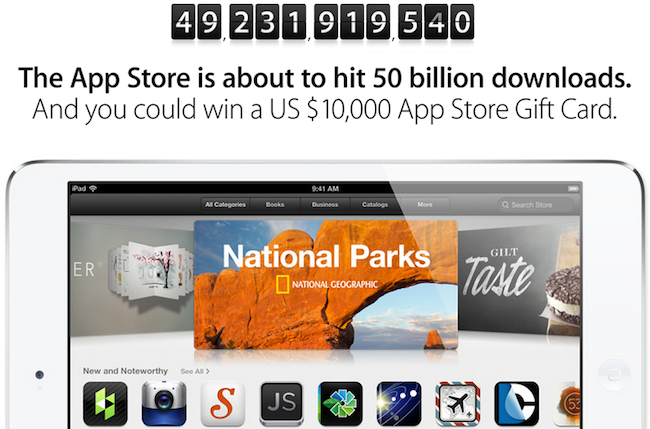 The 50 billion apps countdown promotion is open to entrants who are aged at least 13 (or the minimum age required by your country) and are legal residents of participating countries.
Although you will automatically enter the contest when you download an app from the App Store, users can still win without downloading or purchasing apps. You can simply fill in an entry form here to be eligible, but the limit is 25 entries per day. The contest ends after the download of the 50,000,000,050th app and winners will be listed online within 10 days post the end of the promotion period.
So try your luck and see if you can win. Last we checked, the counter had already reached 49,231,919,540, but considering the lightning pace of progress, don't be surprised if the counter has well crossed that number by the time you are there. Apple had run a similar promotional campaign when it was about to reach 25 billion downloads early last year. At that time, the company was offering a $10,000 iTunes gift card to only one lucky winner.
Apple had first launched its app store back in July 2008, post which Google, the other big player in the apps space, launched the Google Play store (earlier called Android Market) four months later. The Google Play store had crossed the 25 billion downloads mark in September last year. So it will be interesting to see when it will reach the 50 billion downloads milestone.
---