After sorting out which apps to use for travel and shopping we are now featuring the most critical need—food. A few food ordering apps are available for the hungry (and lazy) souls who don't enjoy cooking and are too addicted to their phones and tablets to look for numbers of restaurants to place orders. Online food ordering is just about catching up and thus we couldn't find many apps catering to the rumblings of the stomach. We found apps by global giant JustEat, FoodPanda and Tastykhana. So here we are with this week's dose of App Tracker with our take on how fast these apps will get your food ordered and if they are worth a shot.
JustEat
The app comes from JustEat which is a global player; therefore expectations were high. Using the app, users can book a table as well as order food for home delivery. The app looked fine but after a few taps disappointment began to sink in—its GPS feature doesn't work properly; the app shuts down as soon as you ask it to suggest nearby restaurants. It's not essential to have an account since there is a guest checkout option.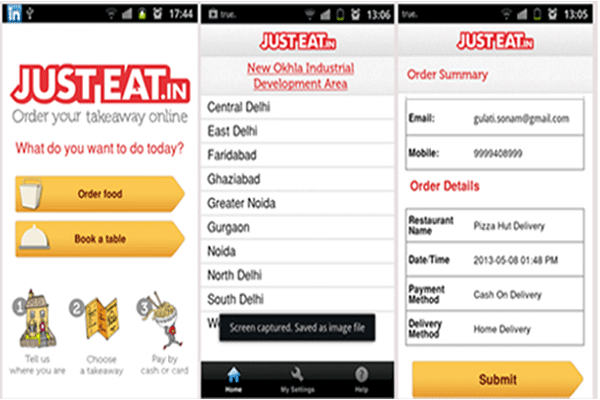 The user interface is just about average but listings can get confusing at times. It doesn't list eateries area-wise in a city in some devices (though it worked in others, which could be a bug). For example, when we asked the app to list restaurants in Gurgaon, it randomly listed the eateries without classifying them under specific areas which is misleading since restaurants have very clear policies in terms of home delivery. Online payment too is not available as of now. Overall the user experience was nothing great. Not an app that would encourage a hungry soul take the pain to go through it, select a restaurant and place an order rather than just call up the eatery. Google Play says it has seen only a little more than 50 downloads. We are not surprised.
Rating: 2.5/5 (give us something more to actually prefer ordering via app over Internet or phone)
FoodPanda
It is also a global company's Indian edition. Rocket Internet-incubated FoodPanda's mobile app is active in Bangalore, Delhi, Hyderabad, Mumbai, Chandigarh and Pune as of now. In terms of user interface, it is much better. The user can select the area on the top bar in a scroll down menu and the whole process is less cluttered. This app offers only cash on delivery option.
It is quick and responsive and doesn't lag at all. The look and feel are much better than that of its peers. Since it doesn't have a guest checkout option, it will work only for registered users. Overall, placing an order takes considerably less time if you know the restaurant and its menu well (say PizzaHut); but if you want to try a new restaurant in your locality then the app might not help. Users might want to see some reviews or more than just the menu. One interesting feature of FoodPanda is that it offers certain deals for a majority of restaurants, including free snacks and 15 per cent discount if the order value is above a certain cut-off level. It is a reliable app for people who prefer restaurant takeaways.
Rating: 3.5/5 (online payments and reviews are missing)
Tastykhana
With the app, users can order online either for home delivery or for takeaway. The visual appeal and interface are not at all cluttered, with decent color combinations. The app is available on Android, iOS and BlackBerry. Users can find restaurants by specifying zone (city) and sub-zone (location). They can also refine search based on cuisine. However, only customers in Delhi NCR, Pune, Mumbai and Bangalore can use the app.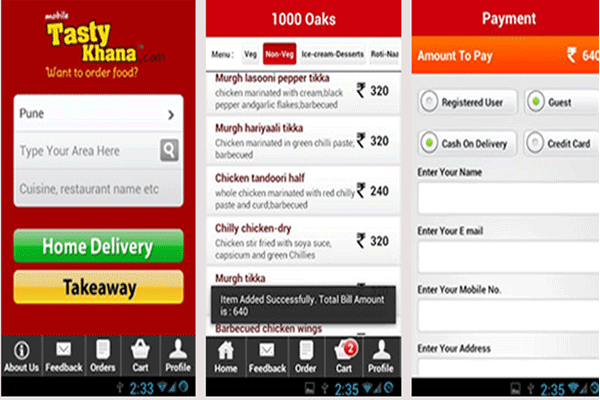 The search can also be refined under options like free delivery, cuisine, pure-veg, original and online payments. This app can be used without having an account but registered users can enjoy some additional features. One of them is re-order for users who repeat their food orders many times—your order gets saved in the app and you just have to press re-order to get it ordered again. TastyKhana got a thumbs up from us.
Rating: 4/5 (we would have given full marks if it had table bookings as well, though that's not part of its value proposition)
There are a couple of other related apps which are also interesting, though not strictly comparable. One of them is MeraFoodChoice that enables users to order food while travelling by train. Users can order fresh food of their own choice on the go. Food ordering is a tricky business since users often hold food ordering sites responsible if the food is not good or if they go through a bad experience. At times, users also fail to understand that the service is meant for just placing an order. Only one of the apps we featured offers the online payment option. If we talk of convenience, online payments can take an app many notches higher.
Both FoodPanda and Tastykhana have seen more than 10,000 downloads on Android whereas JustEat has seen just around 50 plus downloads over the last 30 days (JustEat's app was launched on May 3, so not strictly comparable with others). The winner for this edition is Tastykhana. Try these apps out and let us know if they helped you banish your hunger pangs in time.
---